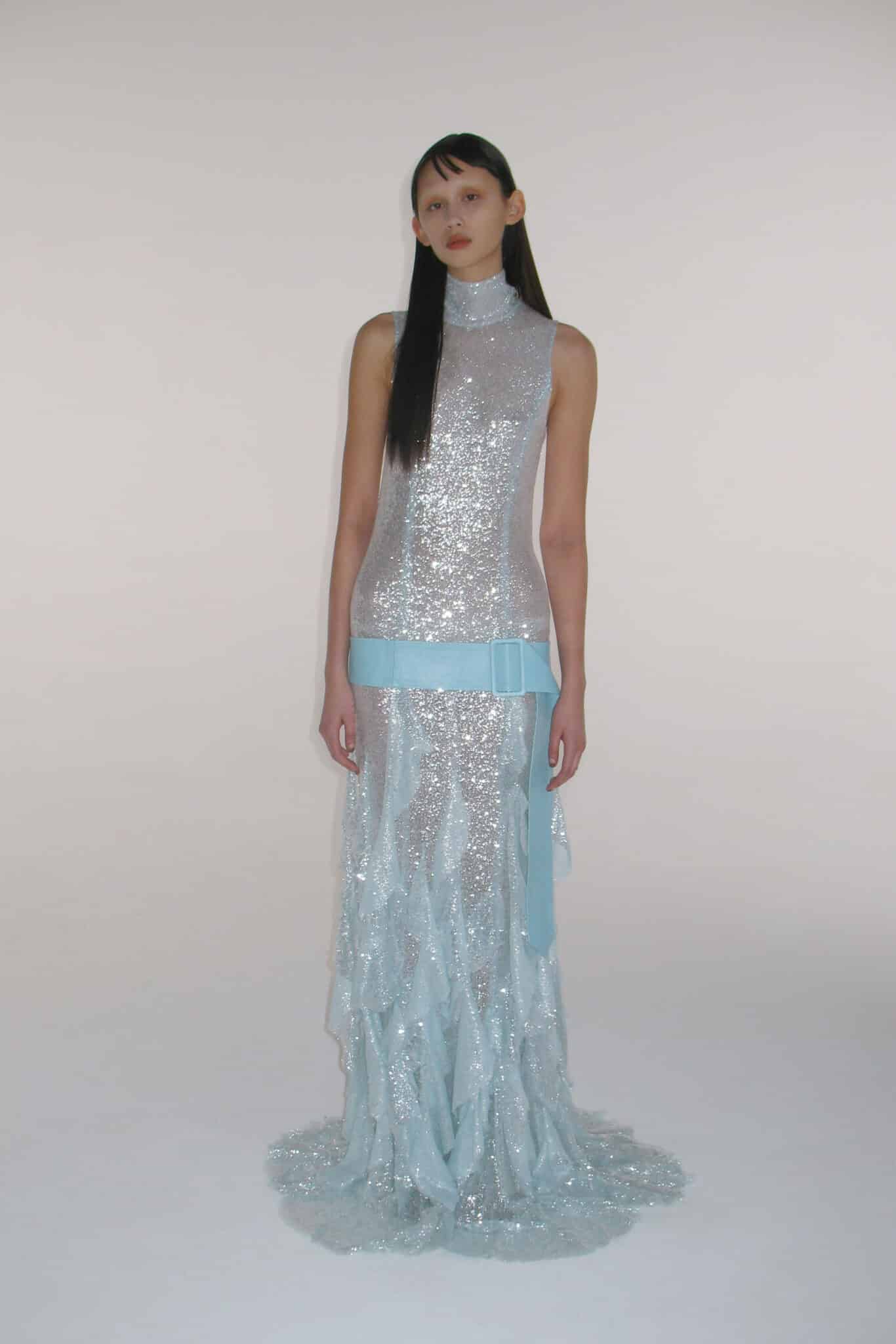 With the 21st June somehow less than two weeks away, bringing with it promised (though uncertain) freedom, the reopening of clubs and the relaunch of festivals across England, scores of people continue to plan their multitudes of post-lockdown outfits. Uncertainty around weddings prevails, too, with ceremonies continuously downscaled or taking on less traditional forms. Lula can think of no label more fitting for post lockdown plans and nuptials than London's very own 16ARLINGTON – helmed by design duo and real-life couple, Marco Capaldo and Federica Cavenati.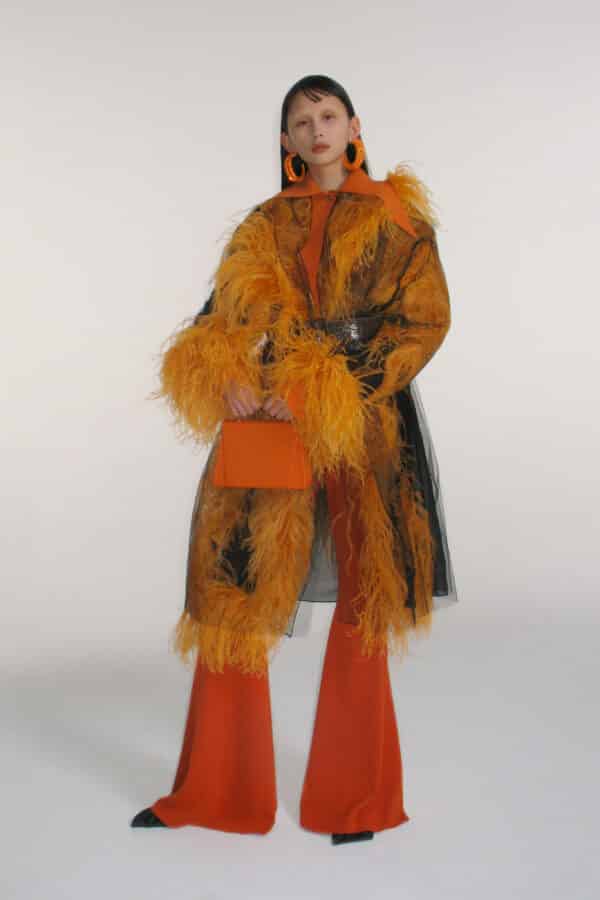 The designers seek to subvert and invert traditional perceptions of glamour and femininity, pairing razor-sharp collars, cinched bodices and floor-length blazers alongside plumes of delicate feathers, satins, and sequins. Their latest AW21 collection was as extravagant as ever – amalgamations of cantaloupe orange, azure and mahogany draped around model's bodies. Intricately-sewn sequins adorned asymmetrical hemlines; marabou feather trims softened crisp leather jackets; trousers and oversized belts hung low at the waist.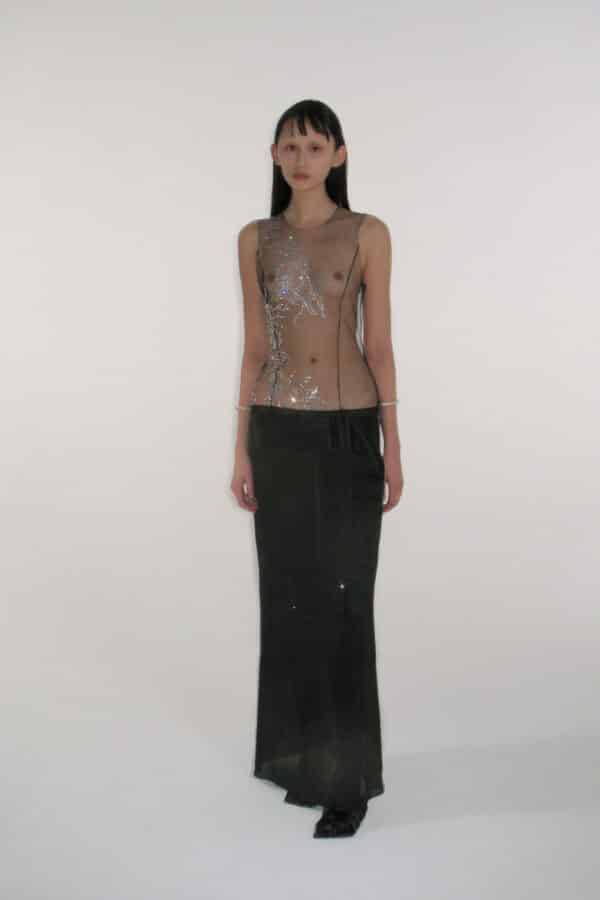 Drawing from their usual 'encyclopedia of opulence', the collection showcased an array of statement earrings and necklaces – bejewelled, claw-like figures clasping around ears and necks, the punkified sisters of Schiaparelli's illustrious ear-wear. Stand-out looks include a floor-length dress of cascading, sky-blue sequins and a matching, low-slung belt; a layered ensemble of burnt orange flares and matching shirt, layered under a black tulle overcoat with a tangerine marabou trim. Neat leather handbags (also in orange) are paired with elegant, black dresses and chunky, square-toed mules.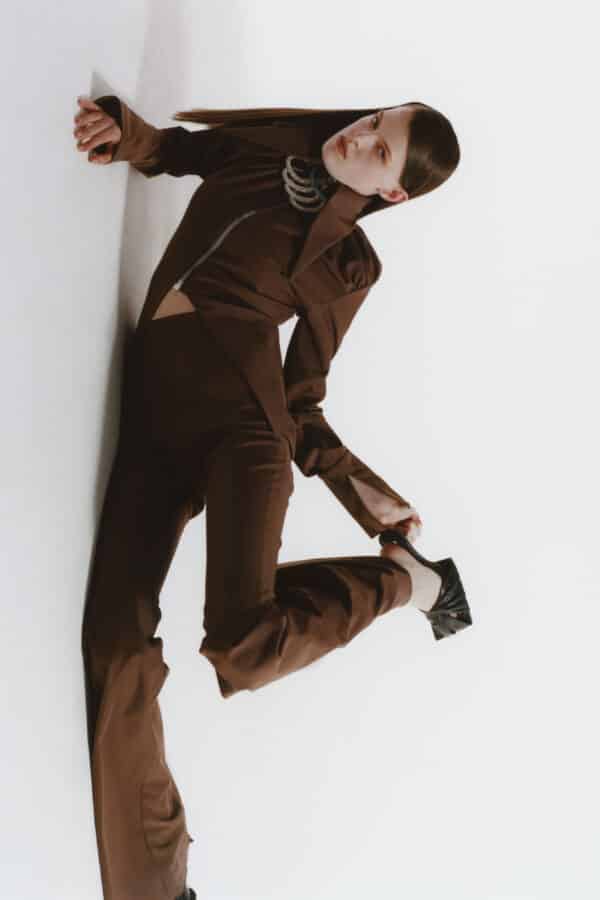 In an exciting move, the label has just released their debut, twenty piece bridal collection, available to purchase directly from their website or at Matches Fashion. The collection presents sharp, high collars; deconstructed satin slip dresses; an array of opal-coloured sequin gowns – hemmed high above the knee or around the ankle – embellished with their signature marabou feather trims. Each piece presents alternative options for the modern bride: for the scores of women who seek to move away from traditional wedding dresses, styles and celebrations. Though bittersweet, the pandemic has, for many women, shifted perceptions of appropriate wedding attire. Bringing with it the possibility for sequins, blazers, feathered cuffs, tailored suits and waistcoats, twenty-foot trails and garish feathered calf boots.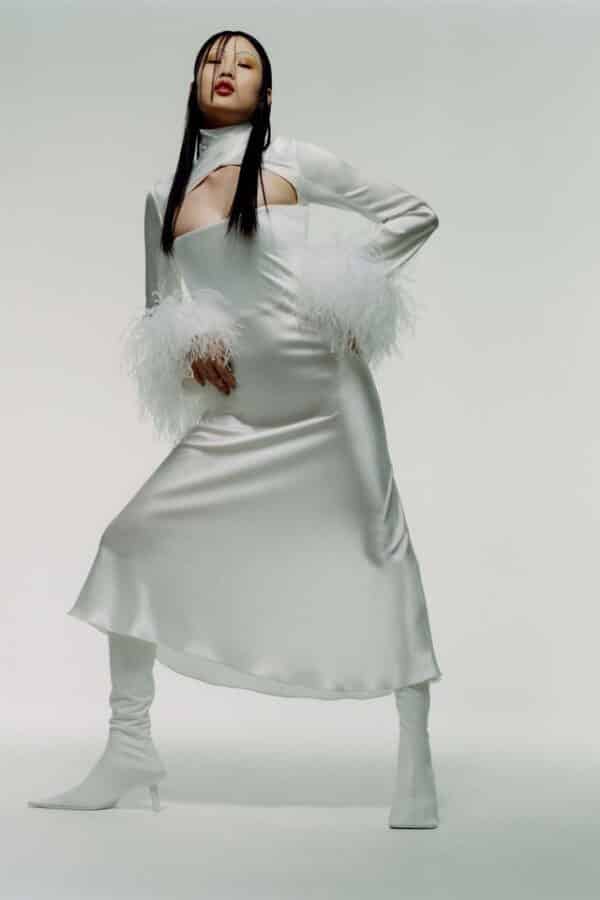 With customers including Solange Knowles, Billie Eilish, Jorja Smith, J-Lo and most recently Miley Cyrus, who wore their hot pink maxi dress for her recent SNL performance; it is clear empowered women continuously flock to the brand's fun alternatives to party attire. The designer duo's adoration of fearless women emanates throughout each seasonal collection, and their bridal pieces are no exception.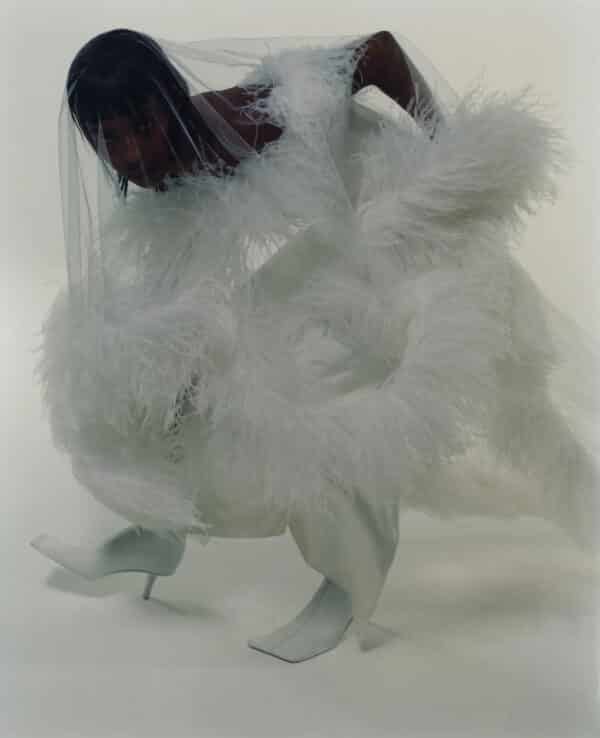 For Lula, show-stopping pieces from the capsule include the ODESSA satin midi dress, featuring a bias cut, feather cuffs and interior corset; the high-collared, mini trapeze dress, adorned with lustrous layers of opal sequins on a transparent mesh, hemmed with festoons of their delicate ivory feathering. The true star of the show, however, is the ARIA feather-trimmed tulle veil, beautifully cascading below the bride's face, around her figure and onto the floor behind her. Such an array of pieces, from adrodynous tailoring to the delicate elegance of the ARIA, fully affirm the label's place as one of London's most exciting fashion houses. 
16ARLINGTON's AW21 collection and bridal collections are available exclusively at 16arlington and matchesfashion.com