London-based accessory and footwear connoisseur Kurt Geiger has released the first glimpse into their new creative partnership with GUAP in their latest campaign, "Together, We Move." The multimedia platform, helmed by co-founders Ibrahim Kamara & Jide Adetunji, is entirely youth-led, striving to spotlight underrepresented and marginalised voices/identities in Britain's creative industries. In turn, GUAP enables brands to stay in tune with the desires of their youngest generation of consumers. Such consumers – predominantly from 'Generation Z' – have encouraged conversations surrounding the diversification of directorial teams, of affordability, accessibility and sustainable production, whilst exemplifying a desire for enhanced representation of non-white, non-able/ larger bodied figures both infront of, and behind, the cameras.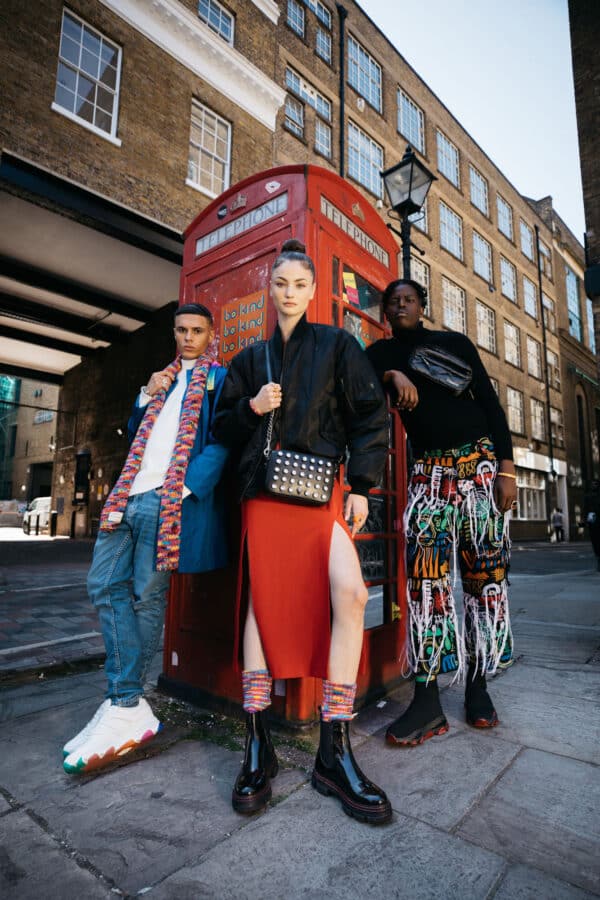 Such rhetoric has inspired a huge shift in the way fashion houses operate and function – or at least seek to present themselves. Unsurprisingly, however, many high flying names in the industry continue to fall short of 'promises' made via social media channels last May, in the wake of mass protests against police brutality and systemic racism. Brands such as Jacquemus and Off-White came under fire for images of their almost entirely white creative teams, and none of us can forget the persistent racism and homophobia spouted by Dolce & Gabbana. Yet the influence of socially conscious collectives such as GUAP (whose partnership with Kurt Geiger will undoubtedly reach miscellaneous and newer audiences) has resulted in a more inclusive and accessible fashion world finally seeming all the more possible.  
"Together, We Move" celebrates transformative elements of friendship, community and connectedness, whilst paying tribute to the undoubted influence of the British capital on the designer. Garishly-dressed models wearing clashing prints, materials and colours can be seen posing beside quintessentially British telephone boxes, laughing in underground carriageways and in-front of colourful, slightly battered shopfronts. Whilst producing striking, fun and unforced campaign imagery, the campaign also afforded Kurt Geiger with the opportunity to join forces with a rising, South East London-based company championing the work of creative entrepreneurs. Geiger's ethos of "creativity and kindness" and their persistent focus on London has been newly enhanced through their creative and financial support of young talent from the capital.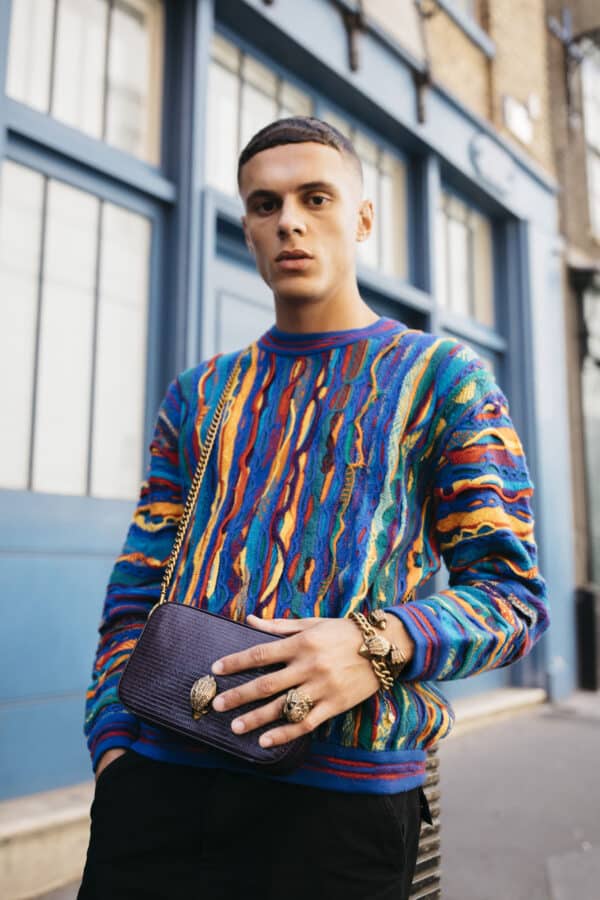 Alongside the brand's Chief Creative Officer Rebecca Farrar-Hockley, the campaign was directed, produced, photographed and edited by GUAP's creative agency 'G-A', led by GUAP Co-Founders Ibrahim Kamara & Jide Adetunji. The pair granted their young, in-house team – and also a wider community of freelancers – the freedom to express creative autonomy throughout the production process. 
Similar to the joyful essence of the campaign and collaboration with GUAP, the collection is vibrant, colourful and uplifting, a contradiction to the conventional dark palettes of the season, and speaks to the sentiment of optimism the brand holds for the future. Maximal elements, such as crystals, rich velvets, coloured faux fur, feathers and metal trims invigorate senses of playfulness and non-conformity, with the splattering of Geiger's signature rainbow representing kindness, joy, inclusivity and hope.
Talking of the collaboration, Kurt Geiger's Chief Creative Officer, Rebecca Farrar-Hockley, stated "through this new collaboration with GUAP, we wanted to empower our community, but in the process, we felt empowered back. We're excited for people to witness this fresh look for Kurt Geiger which highlights our creativity and London roots in a new light."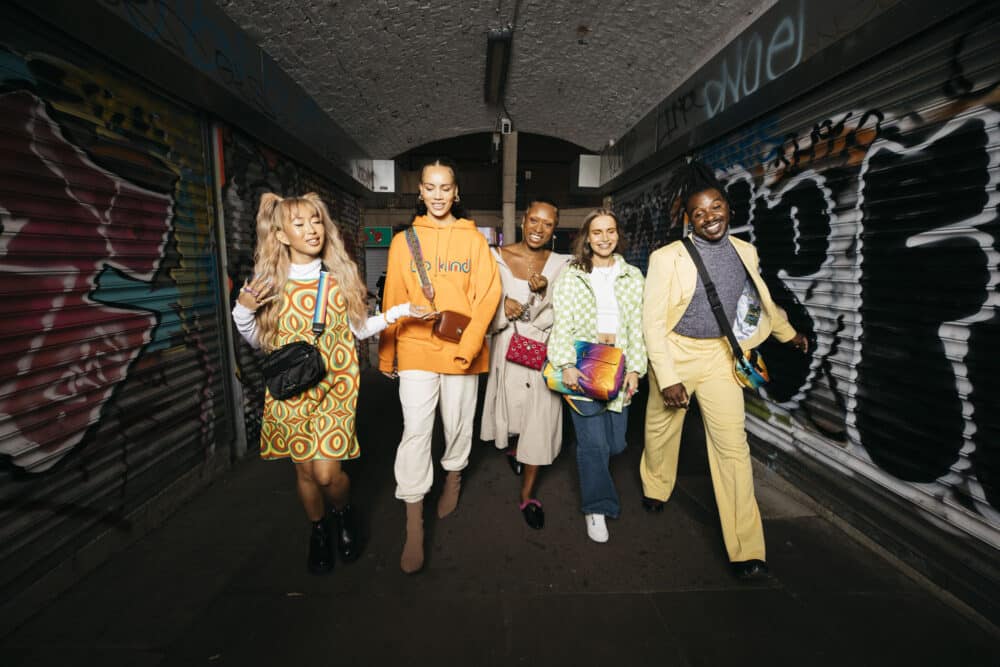 Whilst GUAP's co-founder, Ibrahim Kamara, beamed: "GUAP was started by Jide and I in 2015; 2 young black boys from South East London with no money. This was a dream partnership for us and one where we felt we could really come in and show what GUAP can do. We really respect Kurt Geiger for trusting us to bring their new direction to life. 
"To be the youngest and most diverse team Kurt Geiger has worked with is something we are proud of and this campaign is a true reflection of both our values and this historic moment. We hope to continue to create more impactful and authentic work with Kurt Geiger in the future."

Kurt Geiger's latest collection is available in-store and online at kurtgeiger.com
For more information on GUAP visit guap.co.uk