Womenswear designer Roberta Einer has had a hugely successful few years. Crowned Europe's winner of Forbes 30 Under 30 in 2020, following her sell-out collaborative collection with Christian Louboutin in 2019 and her seasonal collaborations with Swarovski, the designer has achieved successes often unseen so early in a career. Einer's designs are lusted after for their loose, cascading fabrics and beading, and most recognisable for their kitsch amalgamations of bright, summerlike hues. Think zinging apricots paired beautifully with deep cranberries, lime green splatters strewn across cerulean knitting. Such delicate, intricately sewn, feminine designs have continued to entice IT-girl customers: from Maya Jama, Jorja Smith and Gabrielle Union, to Instagram's hottest 'influencers' Matilda Djerf, Inka Williams and Josefine HJ.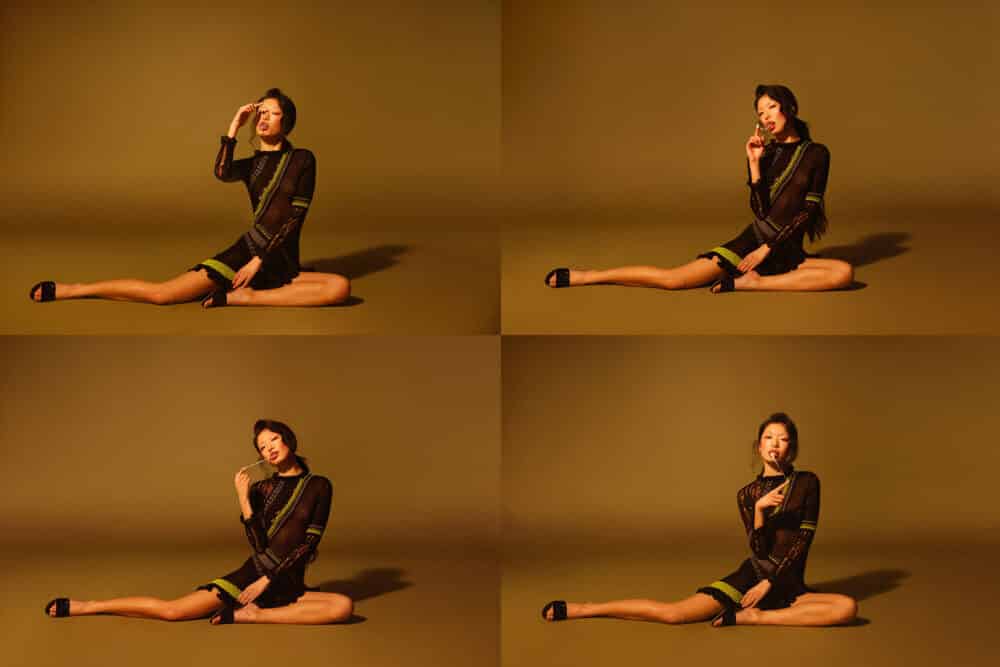 Yet Einer's summer lookbook and signature knit collection differs from its predecessors this year: responding to feedback from her customers via Instagram, the designer has sought to slow down her production process, slowly dropping individual pieces over the course of the summer months. Einer has ensured each design aligns with what makes her customers feel beautiful and empowered, with the creation process ensuring no pieces, materials or energy are wasted. Here, Roberta sits down with Lula to discuss her newest designs, her greatest inspirations and the importance of persistence and experience for budding student designers.
Hi Roberta, over the last few weeks you have been releasing your summer capsule of signature knitted pieces, such as the beautiful LIISA midi dress and new, juicy colour-ways – seen in the blood orange and pomegranate ALI dress. Please can you describe the creative/design process behind your latest pieces?
The last year and a half was a strange time, and we really had to rethink the way we work. To be able to make things, we had to go back to the roots – to people and traditional making, so we spent a lot of time in Italy working with our factories and team there. It really came down to two main things: complex techniques that excited us and cuts that make women feel empowered, comfortable and strong.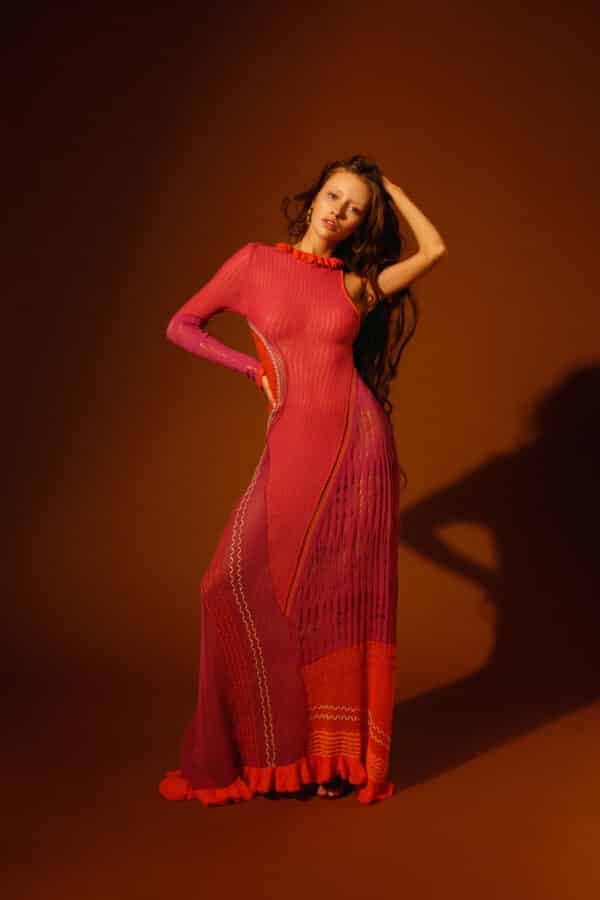 Slowly dropping single pieces throughout a season, rather than releasing one full collection at once, is a process we are seeing more and more independent designers undertake. What drew you to working in this way? 
When we were releasing 90+ piece collections, I felt very often that most of the pieces were left almost unnoticed. It wasn't because they were any worse than others, but because there's always so much information to absorb, especially during fashion weeks, it's almost impossible not to miss pieces! Throughout our small team, there's so much passion and a meticulous process for everything we do. Each piece has a story of its own and we really wanted to give each and every garment a platform to shine.
Your latest look-book features beautiful reworks of your signature coral and pink, and powder blue and yellow knits, whilst also revealing one-shoulder, knitted bodysuits and cranberry red gowns. What is your favourite piece from the collection?
Our bodysuit was the first piece of the collection we carefully designed, and it was technically the most complex one, too. So I am really proud of that, and absolutely love how it looks.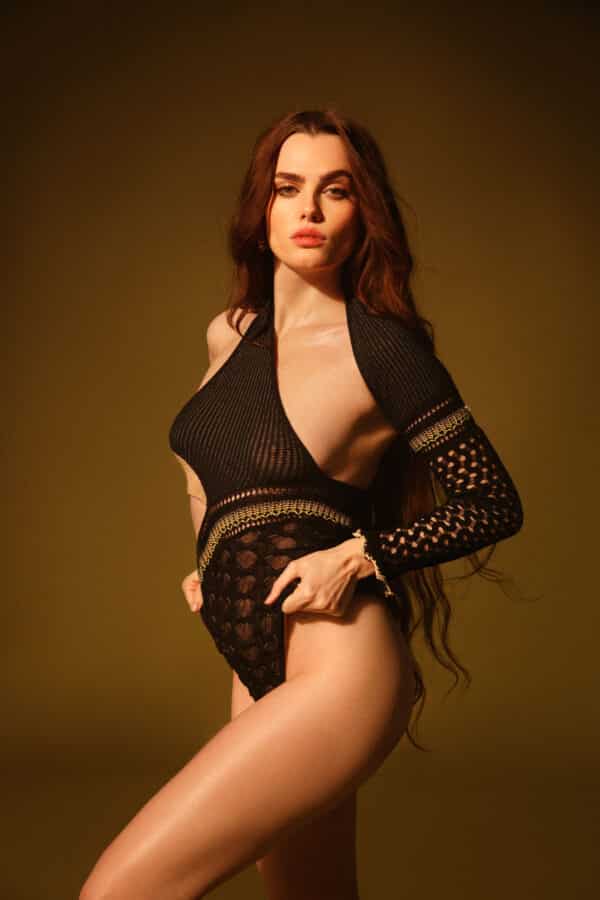 Your exquisite designs are most recognisable for their bold colour palettes and amalgamations of unexpected textiles. What, where or who are your biggest inspirations for your designs? Does this change seasonally, or even daily?
I have always loved using colour and been attracted to unexpected colour combinations. However, after working with bright shades continuously, I can get tired of them and seek out pastels, or even more neutral hues. A few years ago I used so much pink that I couldn't bear it, and kept it out of many seasons' shows. Now, however, I am back loving it! So it really varies.
You had an illustrious plethora of experience prior to establishing your own brand – studying at the University of Westminster and Central Saint Martins; interning for Mary Katrantzou and Alexander McQueen, and moving to Paris to assist at Balmain. What advice would you give to aspiring young designers, eager to gain similar levels of experience?
My work experience before starting my own brand undoubtedly shaped me as a designer  –  from technical ways of working, forming a resilient mentality, recognising the expected standards of luxury products and the work ethic I have today. I honestly believe a lot of the younger generation believe running your own brand/business is easy and immediately rewarding, or that success happens easily or overnight, as that is how it's always presented on social media. However, that is often not the case. Trust the process, try to learn from the best and take any work experience you can – you never know what you may gain from it, or how it will be forming you as a designer in the future!
Your designs are undoubtedly maximalist and feminine, and you have consistently worked with beaded embellishments and delicate knitted patterns since your brands' inception. What draws you to the materials you work most with? 
I am always seeking out new techniques and concepts – such as unique knit textures, embroidery techniques or textures/materials I have rarely, if ever, seen before. I want to always be excited about the materials, processes and people we work with, as I believe this ensures others will be excited about them, too.
Do you acquire inspiration predominantly from other fashion figures or are you ever influenced by interior designers, architects or artists?
 We do look mainly at other garments, old and new, for inspiration – focusing on textures and patterns. However, we also draw inspiration from graphic designers and colour combinations used in art – I love taking elements not found directly in the fashion world and 'translating' it into my clothing.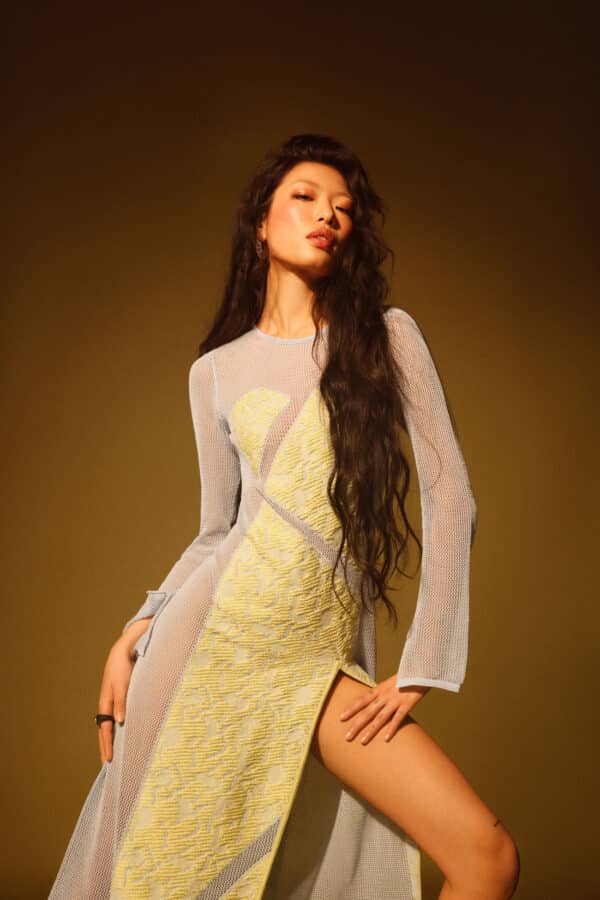 What are your most treasured items of clothing or accessories you own, and why? How do they make you feel when you wear them? 
Anything gifted to me by my mom or grandma. I feel as though I am wearing a sense of timeless beauty and quality, as well as being reminded of my home and its comforts. I believe this is what real luxury products should always be about: triggering nostalgia and the happiest memories.
What is your evening ritual to help you unwind? Does this include reading, a face mask, a podcast, or none of the above?
Cooking for my friends and family and surfing are my go to when I want to switch off from everything.  Also, I love going back home to Estonia to my secret hideaway – this always, always helps me to relax and recharge.  Home is so important to me.
Your collaborations with Swarovski and Louboutin have been absolutely sublime, particularly your Aperol Spritz-inspired unitard and stilettos. I cannot describe how much I love those heels. How do you find and manage the collaborative process? Are there any other brands you would find a dream to collaborate with? 
I think it mainly comes down to recognising the core values of other brands, teams and individuals you are working with. If they are synonymous or complimentary with your own, it will always be a successful collaboration because you trust each other's processes. I always try to push boundaries – mainly my own taste – when working with other designers to produce outstanding pieces, unique to my main collections. In terms of dream collaboration concepts, I'd love to work on a sportswear capsule, and a fine jewellery collaboration. Who knows what the future may hold!