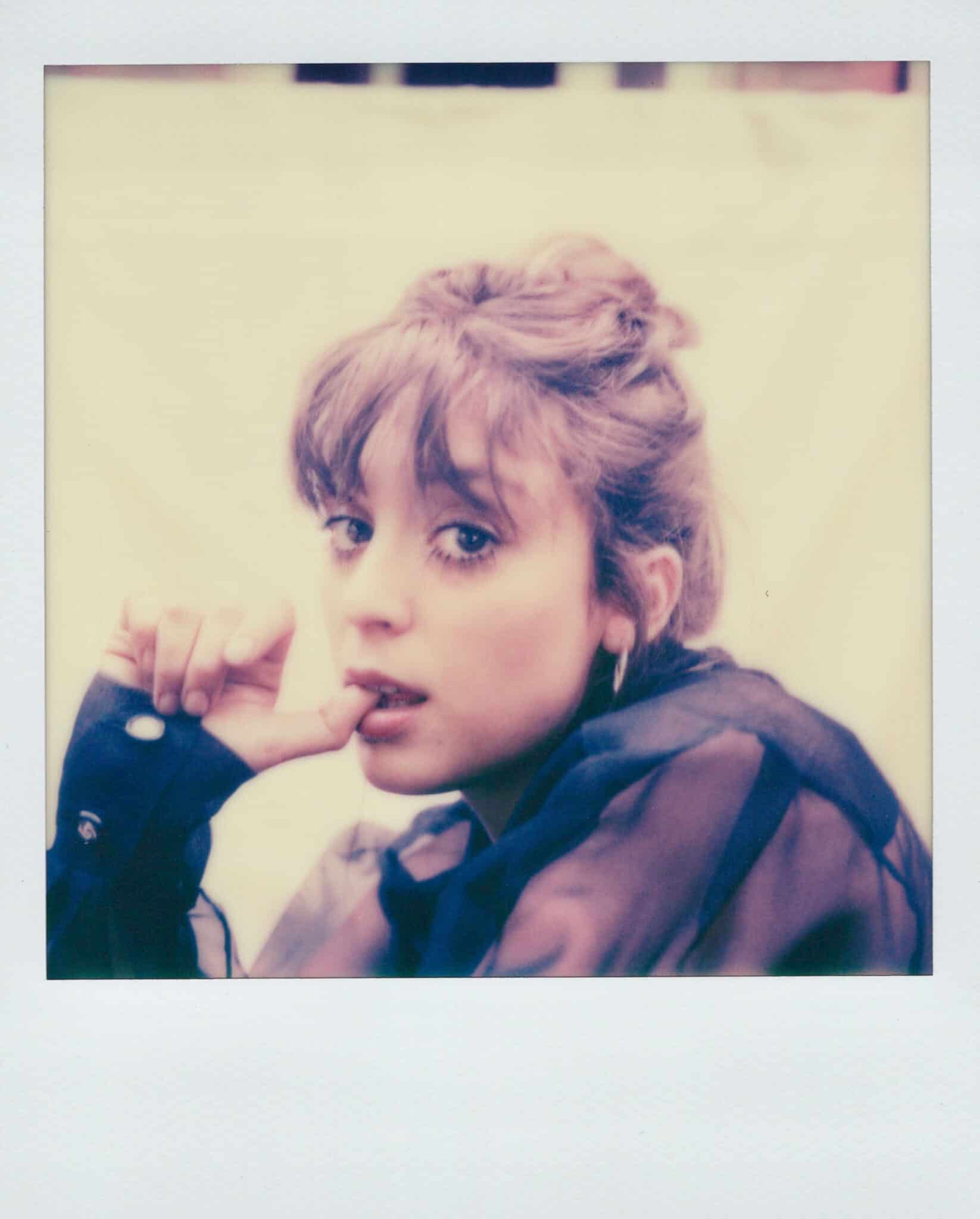 Lucie Is wearing: Shirt, CHANEL
Ben Bond's The Drifters is a charming and poignant directorial debut that touches on many issues at the heart of post-Brexit British society, particularly the interplay between belonging and migration. The London lovestory that plays out is between Fanny (Lucie Bourdeu), a Parisian waitress, and Koffee (Jonathan Ajayi), an undocumented African migrant working at a car wash. The protagonists meet in an English language class, where Fanny tells Koffee that it's pronounced 'arse with r'. All the while the sinister criminal underworld simmers in the background, as Koffee suffers from a debt bondage to Doog (Joey Akubeze). This is what prompts the couple's trip to Devon for the summer. Inspired by Nouvelle Vague films, Bond captures a similar raw energy.

As Fanny, Lucie Bourdeu is a highlight of the film, imbuing the character with charisma, warmth, and vulnerability. Fanny is an evolved New Wave heroine for the 21st Century –  as Lucie tells us, she is 'rough' and 'adventurous'. Lula had the pleasure to meet Lucie and quiz her on the details of playing Fanny, as well as on her life, childhood and biggest cinematic influences.
How are you? And how has the last tumultuous year been for you?
Hello. I'm pretty fine even if it's a rough time. Indeed, it was a tumultuous year but it was also a time for thinking about what I want – like introspection time. It changed a lot for my work. For me one of the difficult things is the fact that every cultural institution in France is closed. I miss so much the museums, theatres, cinemas.
Where did you grow up? And what was your childhood like?
I grew up in Paris in the same neighbourhood, called Belleville. I had a pretty good childhood, I think, with a lot of love and cinema. My mum is a cinephile and made me watch a lot of movies when I was young. Because of her, I fell in love with Charlie Chaplin when I was seven years old.
What was your route into acting?
I was thirteen years old and I was going to buy shoes with my mum. I was sidelined by a casting director in the street. After that my mum made me meet with an agent, after I said I wanted to continue, who made me meet casting directors.
The characters in Drifters play dress up; Fanny as Mia from Pulp Fiction and Kofi as a Native American. Did you play make-believe games as a child?
I did a lot actually. My mum was a costume designer and I was pretty much her doll as a child. But I loved it because I am still doing it today and I love costume parties.
Fanny is impulsive, brave, as well as vulnerable. What was your process of getting into her character?
Well, Fanny represents kind of what I want to be sometimes, without the self destructive side. I think I'm pretty close to the character and she sometimes represents something that I want to achieve. For getting into the character, the time I spent with Jonathan was really, really important. We worked together but we spent time hanging out and that made the difference, I think. We learned so much about our characters by spending time with each other out of work.
In what ways did you connect and differ from Fanny? Do you dance as much as Fanny?
I think I connect with Fanny with her love of cinema and dance for sure. And love of music. I think I differ because of the self destructive  side and the fact that she's really really lonely. And yes I dance as much as Fanny, maybe even more.
What was your routine while shooting?
Everyday was different, I didn't get a routine. Everyday we changed location, we changed scenes, and we worked deeper into the narrative which made every day different. But one routine I had was that after every shooting day, we met with the crew – all the crew – to have some drinks and dinner. We were located in a kind of a campsite. So after shooting when we met it was really like a holiday.
What was it like working alongside Jonathan Ajayi as Kofi?
It was pretty amazing. Jonathan is a really great comedian. I learned so much from him. Ben, the director, allowed us a lot of time and a lot of space for improvisation. What I loved about Jonathan was that he is really so generous. He was a match for the film and in life.
What was your favourite scene to act in the film?
I really enjoyed the scenes where I danced. Actually, I asked Ben if I could dance in the dock….  I think it's in the trailer. But I asked him if we had some time for doing it and he was like 'yeah, yeah, sure, let's do it.' And I really loved playing the scene where I say to Kofi that I'm ready for my close-up and he's holding my hand and I am, like, on the edge of the huge cliff. I loved the dialogue in this scene and the connection we had in it. And I love the scene in the movie.
The Drifters' love story takes place against the backdrop of post-brexit Britain. What was your experience of shooting in the country?
I loved it! It was an amazing shooting experience. I love England and I loved Tynemouth, the area where we shot the movie. I love English people actually and I am so, so sad about Brexit. I hope it won't bring some discrimination into the country.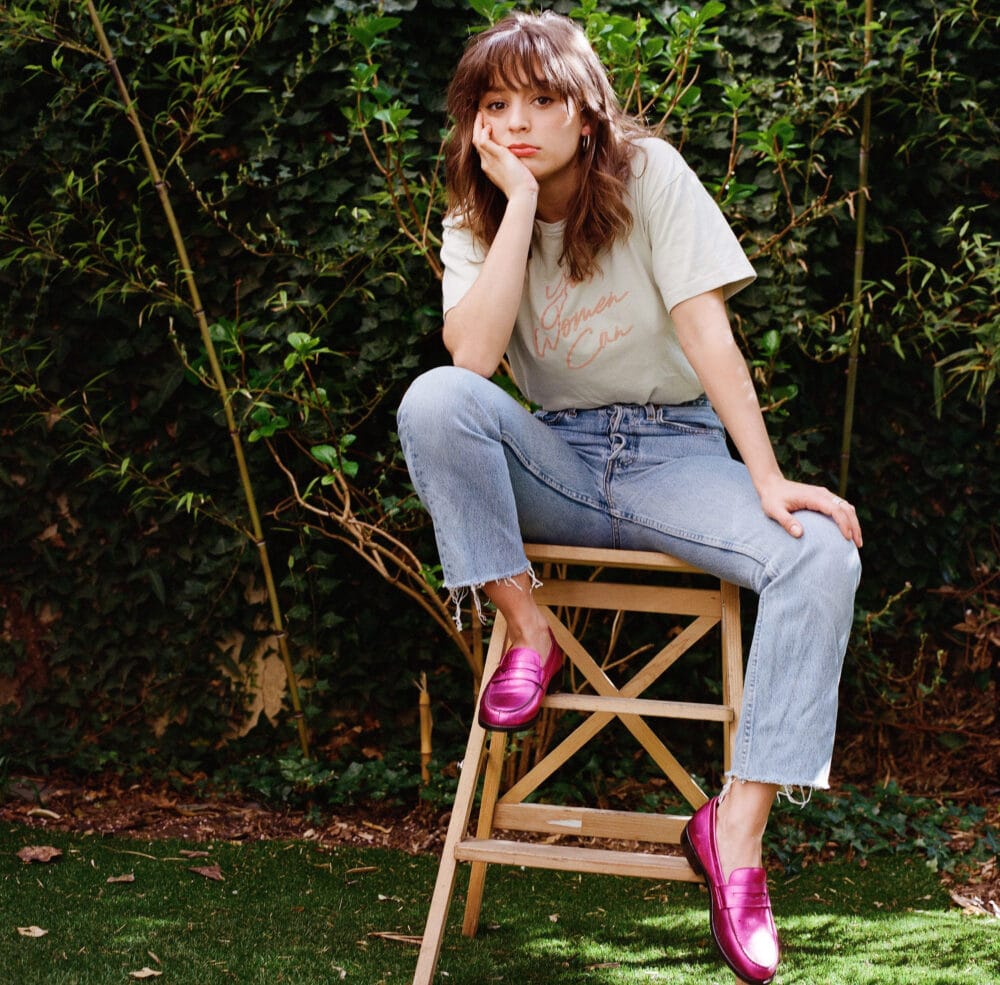 The film touches on some pressing and sensitive issues at the heart of British society – the country's colonial past, Brexit, and the immigrant experience. What do you hope people gain or learn from the film?
I hope people will question themselves with the film. I did; I questioned myself a lot. I hope people question themselves about immigration … about love too actually. Even if the context is really important, I hope people will remember the love story. The fact that you are getting into the intimacy of immigrants – two kinds of immigrants – with the same story. I hope, yeah, people will question themselves and lose some negative preconceptions.
The film references French New Wave cinema. Did you look back at those films to get inspiration? And do you think of Fanny as a Nouvelle Vague heroine?
Ben, the Director, asked us to watch some Nouvelle Vague movies. Well, actually I already did because I studied cinema at the Sorbonne for three years and we watched them talk about Godard's films a lot. The first screening of À Bout de Souffle slapped me. It's my favourite film of his. The way he plays with cinema codes was fascinating; it was a real experience. A whole new mood for me. I think Ben was inspired by the freedom that Godard took; the way he played with the chronology, the editing, the pose moments – when I addressed the camera – , the carpool in Pierrot le Fou. Personally, I prefer Truffaut's [films], which judged me more, including the scenarios, the actors. But Ben's scenarios refer to and are inspired by many other films. It's a true homage to cinema and that's what I liked about it. Fanny could be a Nouvelle Vague heroine, even if I think she's a little too adventurous and kind of rough (I think,I don't if that's the right word). But a Nouvelle vague heroine is more good-looking, more posé, more calm but I think Fanny has a lot of energy.
What are your three of your favourite films?
Wow, it's a really complicated question. But if it's a Nouvelle Vague film, I love Pierrot le Fou, À Bout de Souffle, and The Man Who Loved Women. Oh and L'Amour à l'Américaine. I love Stanley Kubrick's films too. I am a huge fan of Clockwork Orange and The Shining. One of my favourite films called Living in Oblivion by Tom DiCello. It's a film about shooting with a low budget and everything goes wrong.
Fanny throws together a number of iconic looks. What piece of clothing would you steal from her if you could? (and did you?)
Actually I did. I did. I took a combination, like a swimsuit, which I really, really love. There is also a [pair of] shorts with banana patterns on it. I love it. But actually, I bring a lot of my own clothes. Like the yellow jacket is mine, some shorts and tops were mine. Actually I brought a T-shirt from my friend's band called Faire. So it was a mix of my own personal stuff and the amazing work of the costume designer. The idea was that I had to feel good in the clothes – it was important to the costume designer and the director.
What is next for you?
For me, I am going to make another music video. I am patiently waiting for the end of the Covid to work as an actress again. I am still in the sitcom I was in [before in] France but I really want to make some more films like the one we made in England. I hope I will film in England again. Cross your fingers!
At the beginning of the film Fanny encourages us to 'Forget safety. Live where you fear to live. Destroy your reputation. Be notorious.' What's the best advice you've ever been given?
But it's so hard this question! I still think 'Forget safety. Live where you fear to live. Destroy your reputation. Be notorious' is pretty good advice. I think some of the best advice I've had – it might sound stupid – is to be true to yourself and be generous. I use it in life and work
The Drifters is released in virtual cinemas from 2 April and On Demand from 5 April 2021.
Lula Magazine Exclusive

If you would like to watch the full movie online, please click the link below. Enjoy!
https://smarturl.it/thedriftersfilm
Photographer: Emma D'Hoeraene

Hair and Make up: Hind Sousan
Styling: Audrey Taillée
Talent: Lucie Bourdeu