To mark International Women's Day and Women's History Month, Lula has been dedicating their research to inspiring women in fashion. The lists are, of course, endless: designers, photographers, creative directors, models, journalists and seamstresses, to name but a few. One woman who sprang up repeatedly is Molly Goddard, whose eponymous brand has graced the catwalks of London Fashion Week for just six years, already achieving cult status and fully affirming her place at the forefront of London fashion. 
Goddard is arguably most recognised for her immense tulle ball gowns – a dress type that has long been associated with fairytales. Think damsels in distress, dainty (often white) princesses and equally-as-delicate tiaras; eighteenth century masquerades in grand palaces. Societal perceptions of female role-models have, to a certain extent, morphed and developed since the glory-days of the princess, with the ball gown largely considered an unattainable item of couture houses. Despite this, the 33 year old, London-based designer has continued to obscure the apparent boundaries of said dress and also of when and where one may 'dress up' – particularly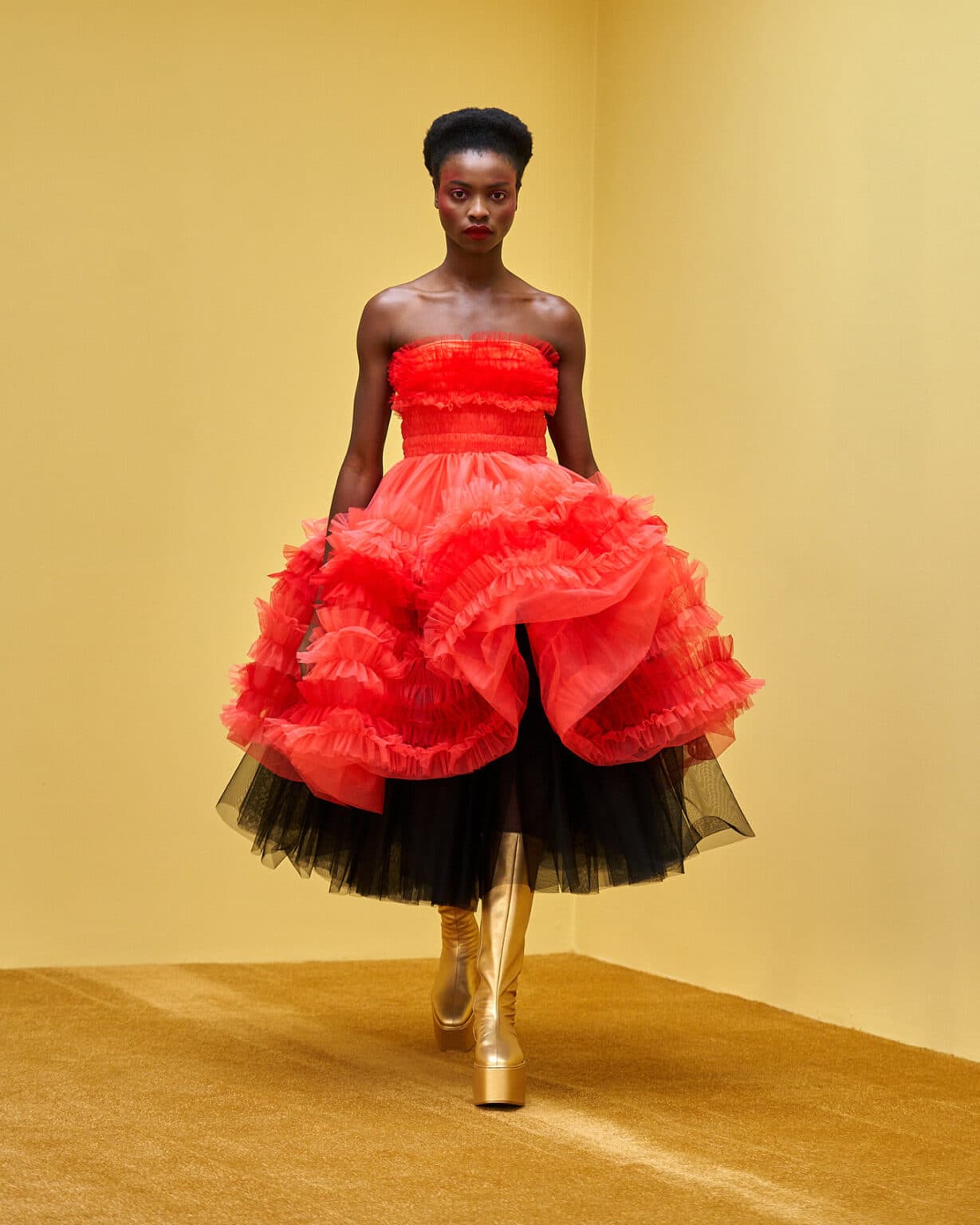 since the pandemic began. Though we may have been, and continue to be, confined to our couches, Goddard's newest collection showcases the joyful possibilities of playful, statement-making clothing and the art of 'dressing-down' a Molly Goddard dress – think chunky creepers, ribbon-tied knee socks and layers of cable-knits. 
The designer's continual experimentation with tulle truly showcases her skill: hand-sewing together mountainous layers of the relatively lightweight material to form thick, expanded silhouettes; billowing, outstretched skirts and almost-neon hues. The Lina dress – the staple piece of her AW21 collection, is composed of cascading layers of azure, black and powder-blue tulle, and took over thirteen hours to make. 
Despite their enlarged proportions, Goddard's dresses possess a visible intimacy and delicacy which is unmatched: delicately scooped, almost-translucent necklines and cinched-waists were persistent throughout Goddard's AW20 collection; as were smocked bodices, ivory cotton and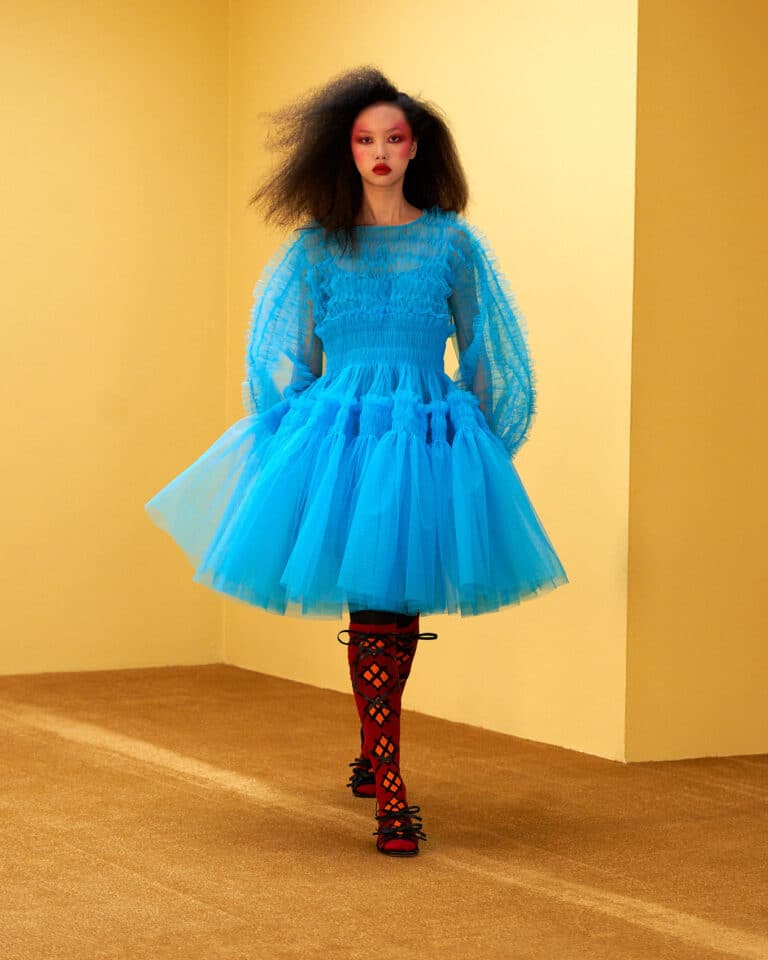 silhouettes-done-in-miniature in her SS18 collection. Though tulle is undoubtedly her most recognised medium, Goddard has repeatedly showcased her ability to work with a range of materials, shapes and hemlines. Her menswear collection, first showcased in her AW20 show, emphasises the young designer's eagerness – and unquestionable adroitness – to constantly push herself and affirm Molly Goddard as a major fashion brand.
The AW21 collection is no different to previous in showcasing the designer's natural ability to create the most whimsical, romantic, twenty-first-century fairytale dresses. Set against a mustard-yellow backdrop, her virtual show was aired digitally from her East London studio, each piece designed from her West London home in lockdown. Being eight months pregnant, Goddard was undoubtedly pushed a little more than usual whilst crafting her pieces and show, yet the collection foregrounds her brilliance and expertise. Idiosyncratic colours and silhouettes formed by delicate cotton, intricately knitted mohair and wool and her signature tulle. Goddard's second menswear collection flourished, focusing on smartly tailored blazers, splatters of tartan and the kitsch pairing of reds with pinks. Tartan was prevalent throughout the collection, mixing garish dresses of enlarged proportions with elements of the punk era of the 1970s: stomping boots, gaudy makeup and large hair. A narrow, striped, knitted scarf was paired with many of her looks, as were '80s-esque bows, knee socks and ribbons. The collection perfectly emanated the rebelliousness of British punks of the '70s, and the outlandishness of American prom-goers of the '80s.
I am not ashamed to admit how, when I was very young, I wanted to be a princess when I grew up. Think pink tutus, plastic tiaras and heels from the latest edition of Go Girl – my less-than-girlie mum was less-than-impressed. However, as I entered my teens, I ditched the tiaras for fishnets and Doc Martens; my icon became Siouxsie Sioux. I was raised as an avid feminist, yet fell victim to the belief that it was alittle 'unfeminist' to wear pink, frills or dresses. Of course, I was completely wrong. Every Goddard dress that has ever graced the London Fashion Week catwalk provides a sense of female power to its model, and her latest collection is no different. Though her designs are undeniably 'girlie', Goddard's tulle skirts, bows and vivid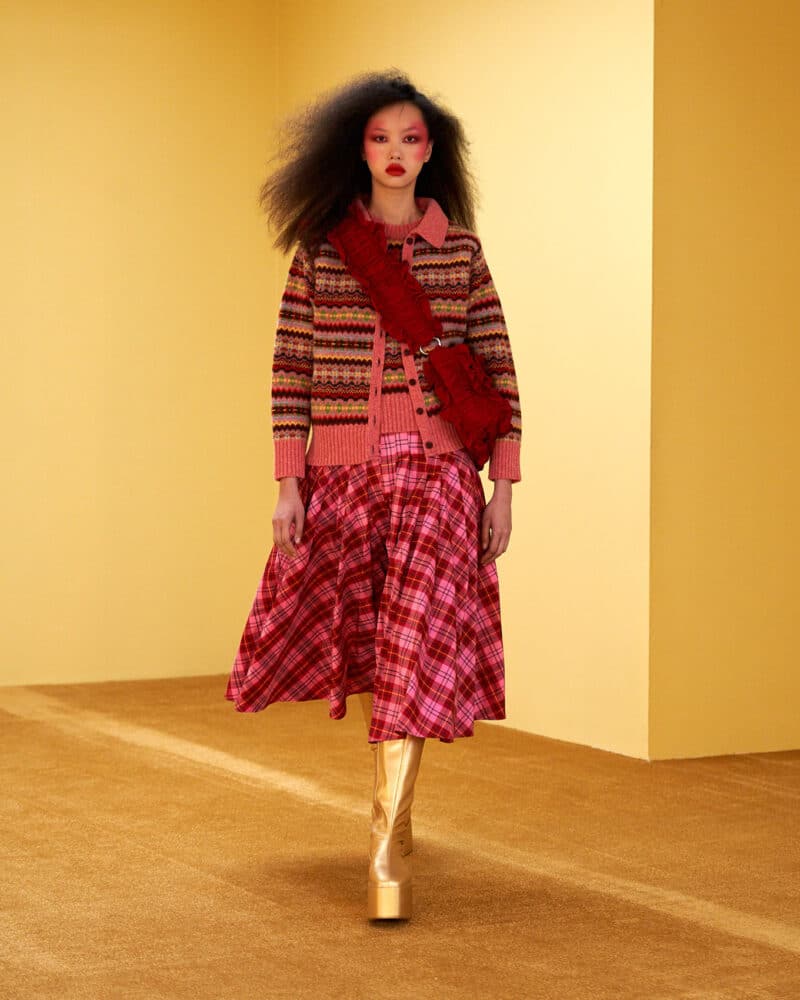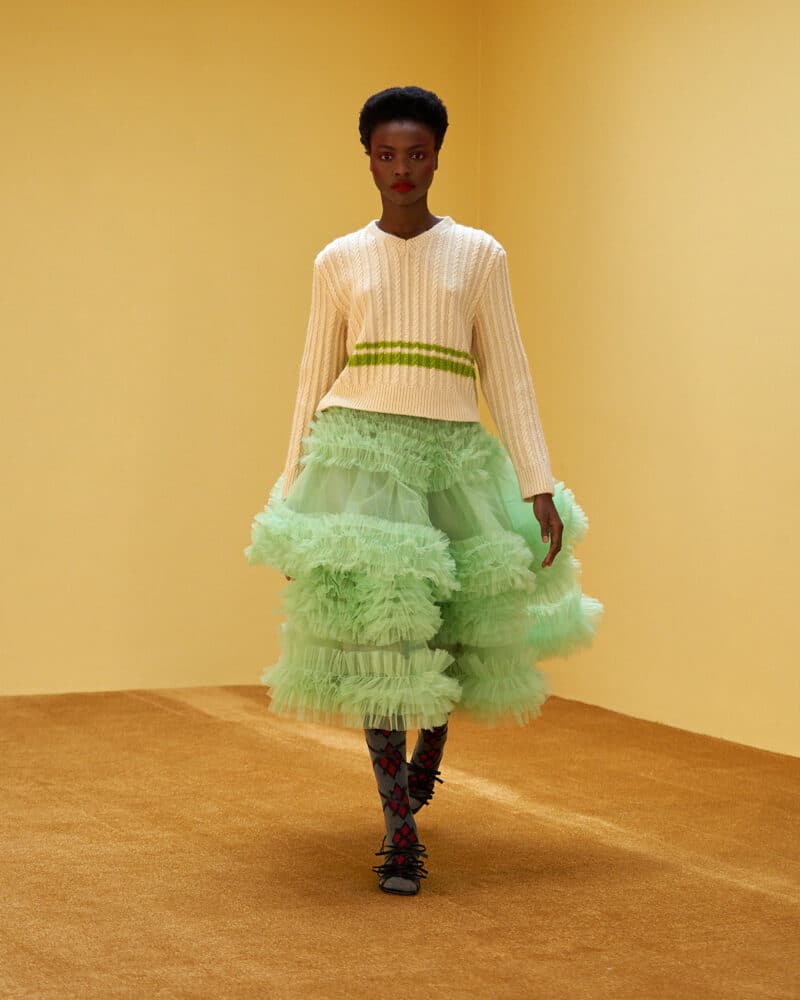 colours do not infantilize her women, instead creating subverted forms of the traditionally 'feminine' princess dress. With customers including Rihanna, Farshid Moussavi, Lynn Yaeger and the fictional, feminist-icon Villanelle in Killing Eve; strong, independet women clearly gravite toward Goddard's designs.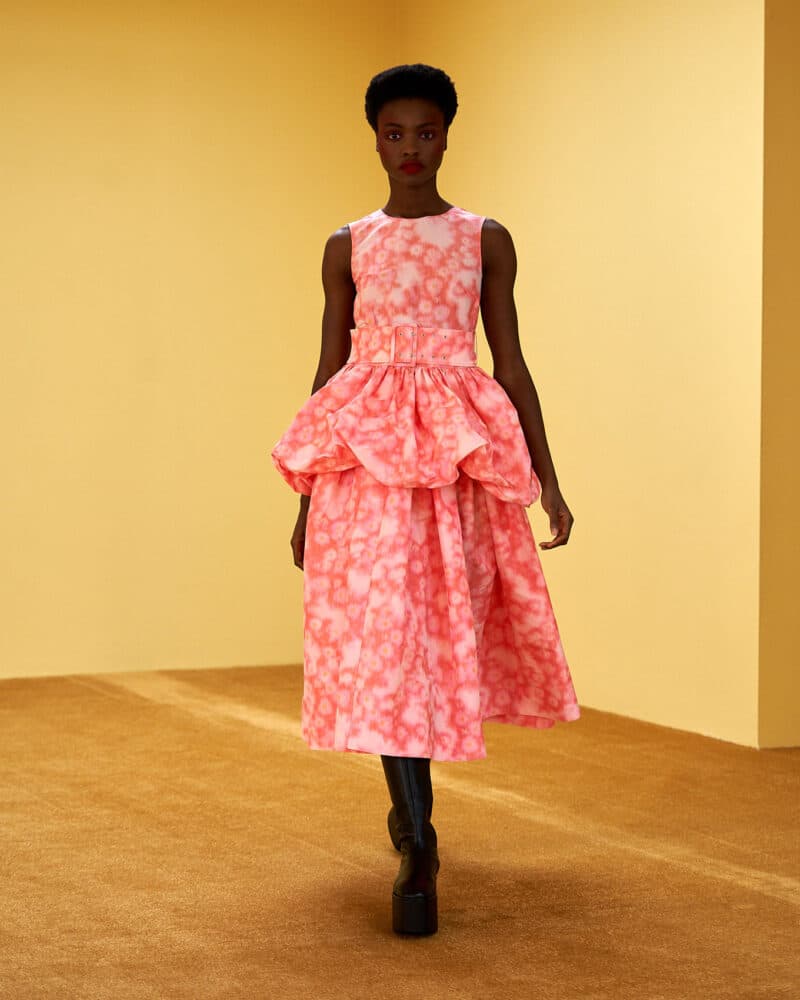 Goddard's commitment to designing for the modern woman was showcased further in her 2020 Bridal collection, which was a true work of genius. Luscious swirls of ivory silk and delicate cotton forming whipped-cream-like fountains of deliciousness. The dresses were actually already-released designs in an ivory hue, with slightly more affordable price tags. Customisable ribboning, strapping and hemlines emphasises Goddard's love of female expression and individuality through the clothes they wear, and the presence of blown-up and toned-down proportions, varying waist shapes and skirt lengths provides a perfectly modern, princess-like dress to the modern woman in all of her forms.