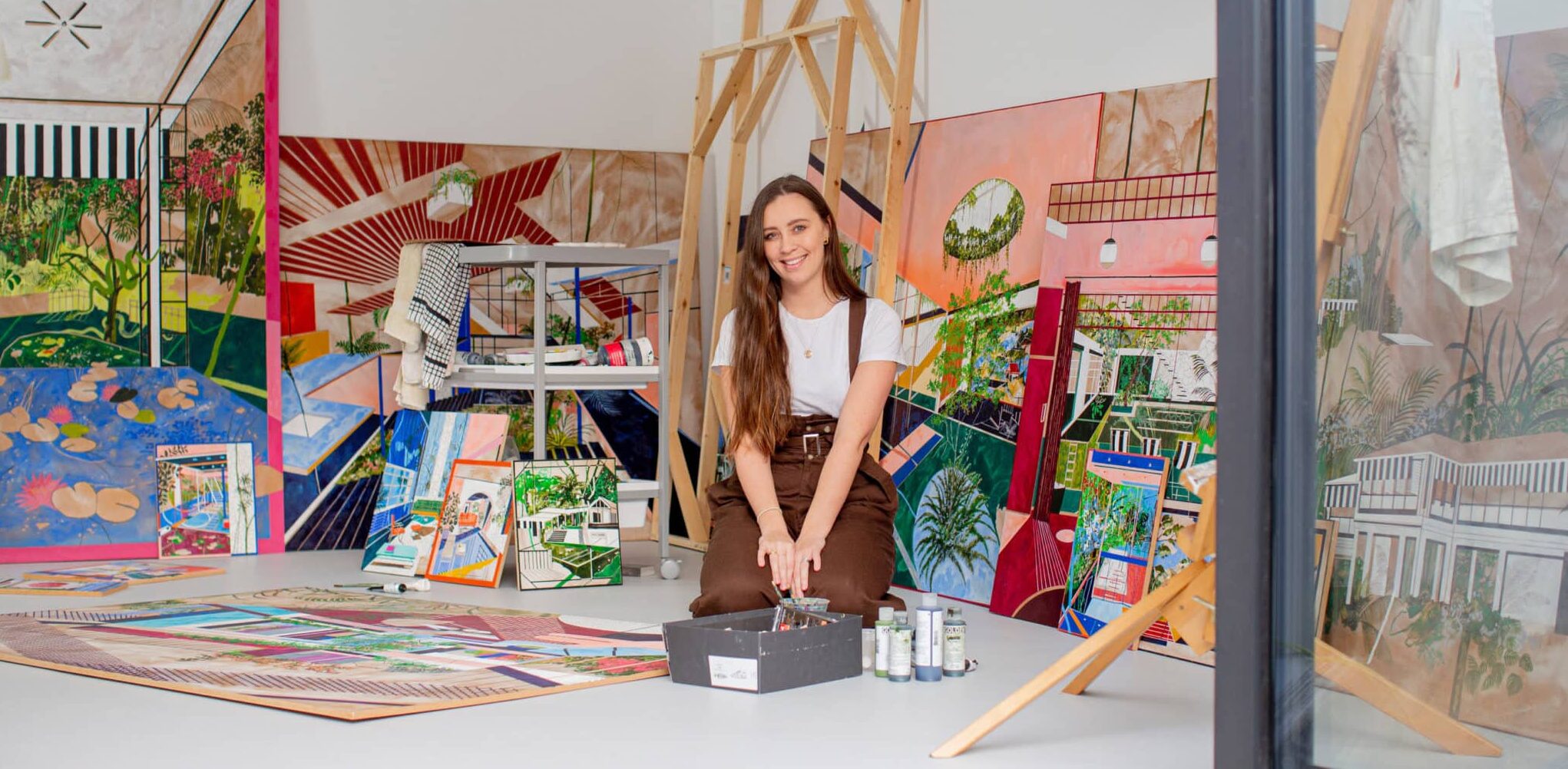 Charlotte Keates' brilliant acrylic and oil paintings of interiors have rightly captured the art world's imagination. She studied Fine Art at Falmouth, graduating in 2013, and went on to be a finalist in the 2018 Threadneedle Prize. Now she exhibits widely in the UK and overseas. Charlotte's 2021 exhibition A Constant Hum at the Arusha Gallery in London marked her first solo show in the capital, which drew arresting dialogues between her drawings and paintings.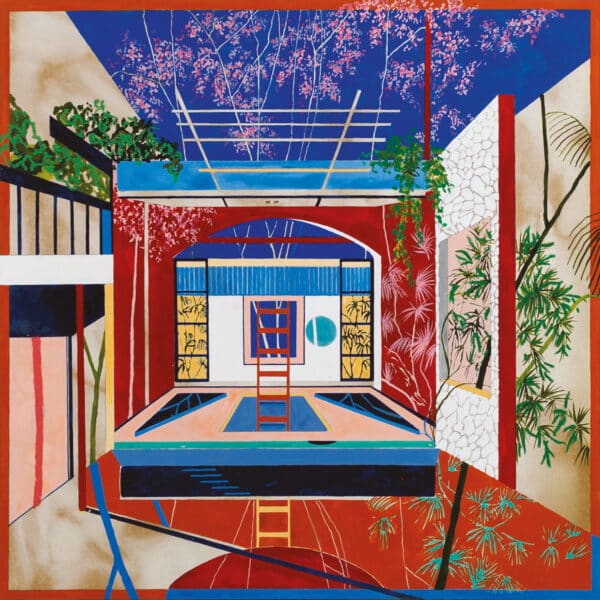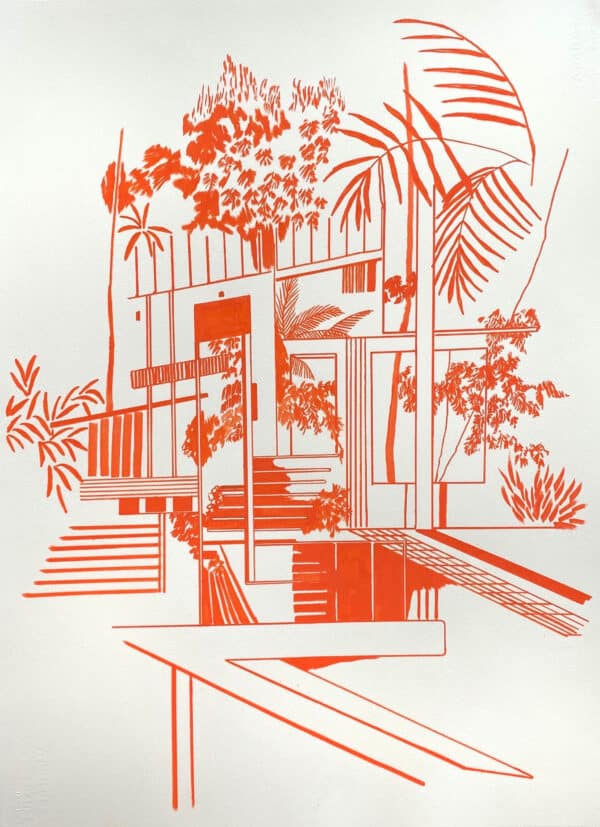 The artist's signature phantasmagoric spaces hark back to 20th Century architecture, as they pave the way for technical innovation. Charlotte has created her own take on the traditional gesso ground for prepping her wooden panels. Nature also plays a significant role in her work, seen in the plant life and flowers springing from her paintings. There is a poetry to every piece, which their titles emphasise. Charlotte explains that these are taken from haikus or remembered feelings towards a certain place.
Charlotte asks the viewer to inhabit her paintings and Lula would love to do exactly that, gazing out of the large windows, lounging by the pool, and descending the floating staircases that have no destination. I had the privilege of asking Charlotte about her inspiration, intuitive process, and her passion for architecture.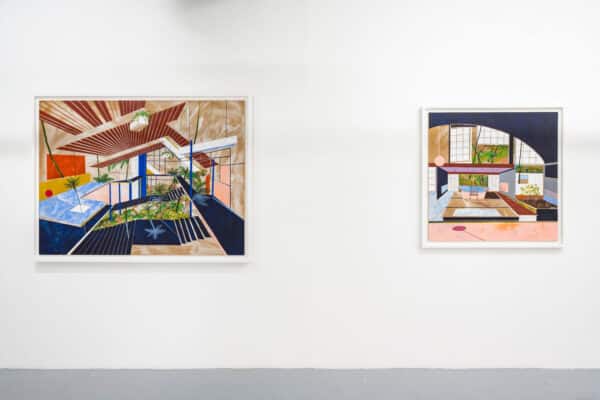 You can view Charlotte Keates' artworks for A Constant Hum on the Arusha Gallery's website .
How are you?
I'm great thanks, hope you are too? Thanks for inviting me to chat to you guys!
Congratulations on your exhibition at the Arusha Gallery! What was the experience like of your first solo show in London?
Thank you so much. This is actually my 3rd solo show, but first one in London. It's been so wonderful to see it all come together. I've been working on the pieces for 'A Constant Hum' since 2019 just after my solo booth at Pulse Miami with Arusha in 2018. Everything came together really organically for this exhibition, it's been great to see how both the ritual drawings and the paintings speak to each other.
What was your route to becoming an artist?
I studied Fine Art at Falmouth University and had a couple of galleries come to my degree show. I was super fortunate to have them show my work in group exhibitions a few months later, so it all happened quite quickly for me. 
I moved to London straight after my degree and worked part time in Interior design whilst painting as much as possible. The interior design company actually gave me my very first studio (which was directly behind Westminster Abbey in a very grand and very haunted attic studio space)
I started exhibiting with Arusha Gallery back in 2015 and was able to paint full time from then onwards, at first in my live/work studio in Hackney for a few years and in 2019 (just before the pandemic) My husband and I moved out of London, to Guernsey in the Channel Islands – where I have built my own studio by the sea. 
What attracts you to buildings and domestic spheres?
I think I've always been so drawn to architecture, geometry, form, shape, line. There is something so beautiful about the way all of these elements can work together to make up a structural space, but when isolated and removed or considered on their own – they are just sort of forms in their own right. I like to consider the ergonomics of a space, how we decide to place objects in our home or interior, and how we choose to lay out and display it all. I think often furniture can look like it's in conversation: facing each other as if two people have just pulled up a seat and turned to each other engaging in a long chat etc. I quite like the idea that our furniture and our homes represent our inner mental state, and this can be subtly eluded to by the placement of objects.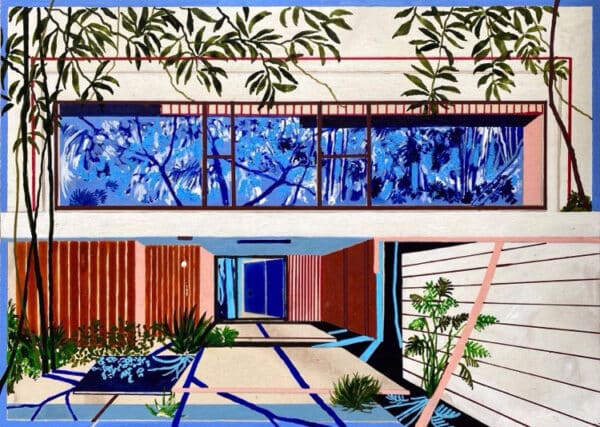 I am very interested in your intuitive way of making art. Can you talk me through your painting process?
Yes I think it's such a huge part of my process – everything has to feel an organic way of working and feel right in that moment. I could never use photographs too heavily as source material as I find that I become too wrapped up in the idea of trying to portray the physical space instead of emulating the idea, feeling and experience of a space. I prefer working very intuitively and instinctively, for me to react to how the physicality of paint is working. A lot of it all becomes about your own mental state, feelings, what's going on in my own world. With the paintings in A Constant hum, it was mostly my imagination and sensory world in my mind that was guiding me.
I begin a painting with the gesso ground which is applied very freely. Then I have one section where I know I would like to begin and I draw directly onto the panel. I then start to expand that area, trying to figure it out as I go along. Adding pockets of detail to guide the eyes of the viewer on a journey. I am always aiming to balance the whole piece, in terms of light and dark, texture, tonality etc.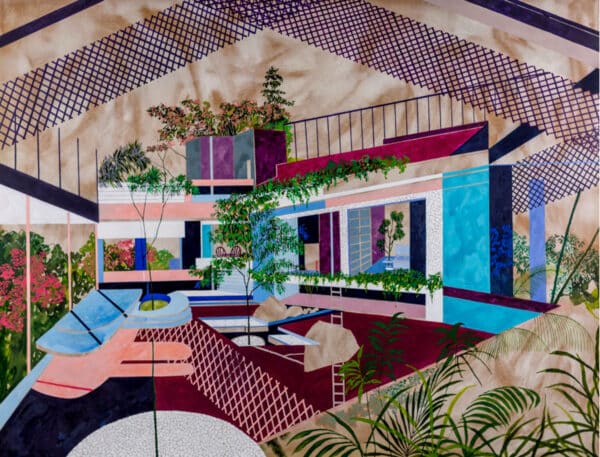 Do you see any differences between the art you're making now and your older work?
I can definitely see similarities or crossovers, where certain themes or ideas have resurfaced again. But I think I'm maybe a little more confident with my colour palette now…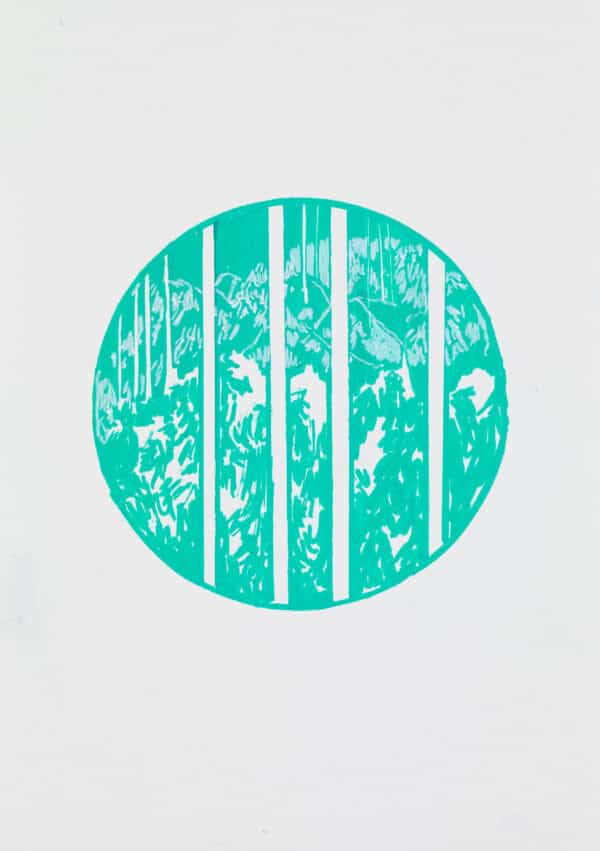 You often work on wooden panels. What's behind this decision?
The wooden panels give me this perfectly smooth surface. I use a unique take on a traditional gesso ground to begin prepping a panel. Applying the ground in these big gestural strokes and sanding down between each layer. I just couldn't get this same effect from canvas, it feels very limiting to me. I like how the wood grain creates another texture that I can work with or against as well, it adds to the whole process for me. 
The titles of your work are beautiful and poetic. Across an Embroidered Blue Sky, Hanging Raindrops, So Many Different Ways to Make Those Hidden Things Found, and The Flower of Forgetting are some of my favourites. How do you invent them?
Thank you so much. Lots of these titles are taken either from haikus or descriptive sentences I have pieced together when remembering a space or place. I sometimes write down inspiring phrases in the moment and return to them when I want them to help form a painting or inspire a new piece. 
I love the idea of seeing words as forms and attaching them to paintings.
During the making of these paintings,I would hold some words or parts from haikus (that I felt inspired me) in my mind to channel them onto the board as a kind of ritual – and these would then become the finished titles for the works.  
It's a funny thing to consider, attaching words and a more tangible meaning to an artwork – I'm really pleased to hear you describe them as poetic, as that's how I hope the works are also perceived.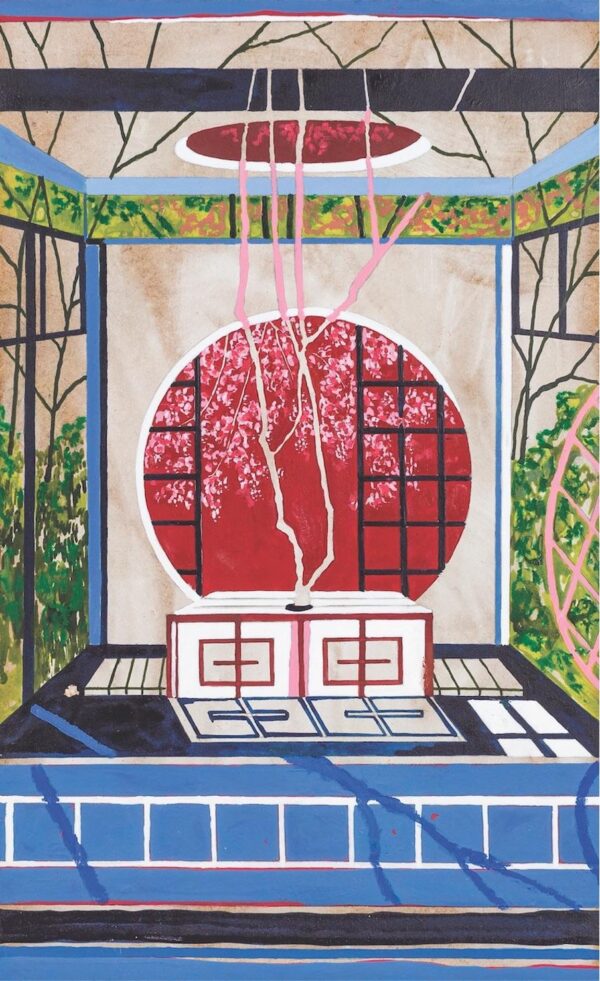 Do you have an idea of who inhabits the spaces in your work?
No, the spaces I am painting are a combination of memories of how a space or place made me once feel, mixed with imagined elements that make it feel true to life, or believable. In a way, the viewer is the only inhabitant – I hope for the spaces to feel warm and inviting so the viewer feels a sense of familiarity… but there are rarely indications of who lives there, a sort of dystopian/utopian feel perhaps. For me, people are always absent from the paintings because I think they would divulge too much and don't allow the viewer to feel engaged and like they are a part of the narrative.
What is your dream home like? Where is it and what does it look like?
I think it would be ever-changing, I'm pretty indecisive. Probably something beautiful with character, lots of windows, and unusual shapes… by a big expanse of water, but also surrounded by trees and a lot of green.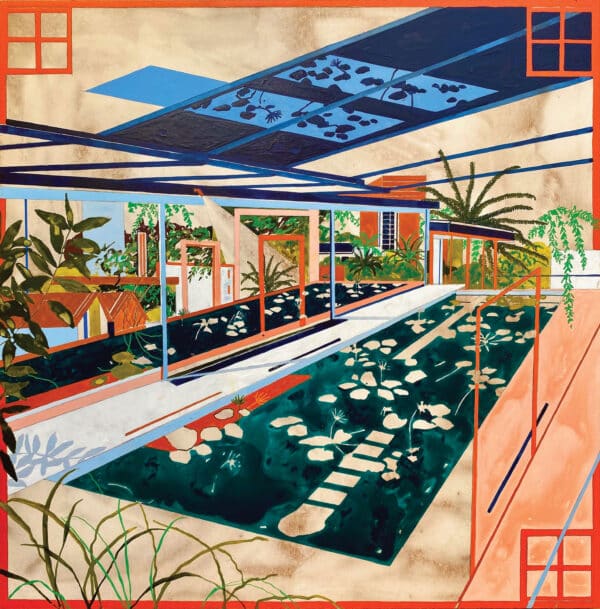 What would be the perfect real or imagined space for you to exhibit your work?
This is such a good question. I think maybe if I could exhibit the work that was inspired by a haiku or description back in the imagined space described in that haiku or sentence…it would be like bringing it round full circle, similar to how I have previously talked about the seasons and everything becoming a part of a cycle… there is something quite beautiful about this, although it feels like a pretty abstract concept.
Obviously if we are talking about a real space to hang my work, one of the major museum collection galleries like Moma or Tate would be a dream.   
What inspires you? This could be other artists, an object, or a feeling…
Inspiration can come from pretty much anywhere, lately it has even been the way light and shadows are bouncing off objects and reflecting onto others. I think once you feel inspired by something, you start seeing it so much more and everywhere…
In terms of artists there are so many, often very painterly painters like Cecily Brown, Mamma Anderson, Peter Doig, Michael Armitage.
We're excited to hear what's next for you?
Thanks! I am actually exhibiting next month in New York at The Armory Show with Arusha Gallery, which I'm super excited about…what's next after that, we shall see…