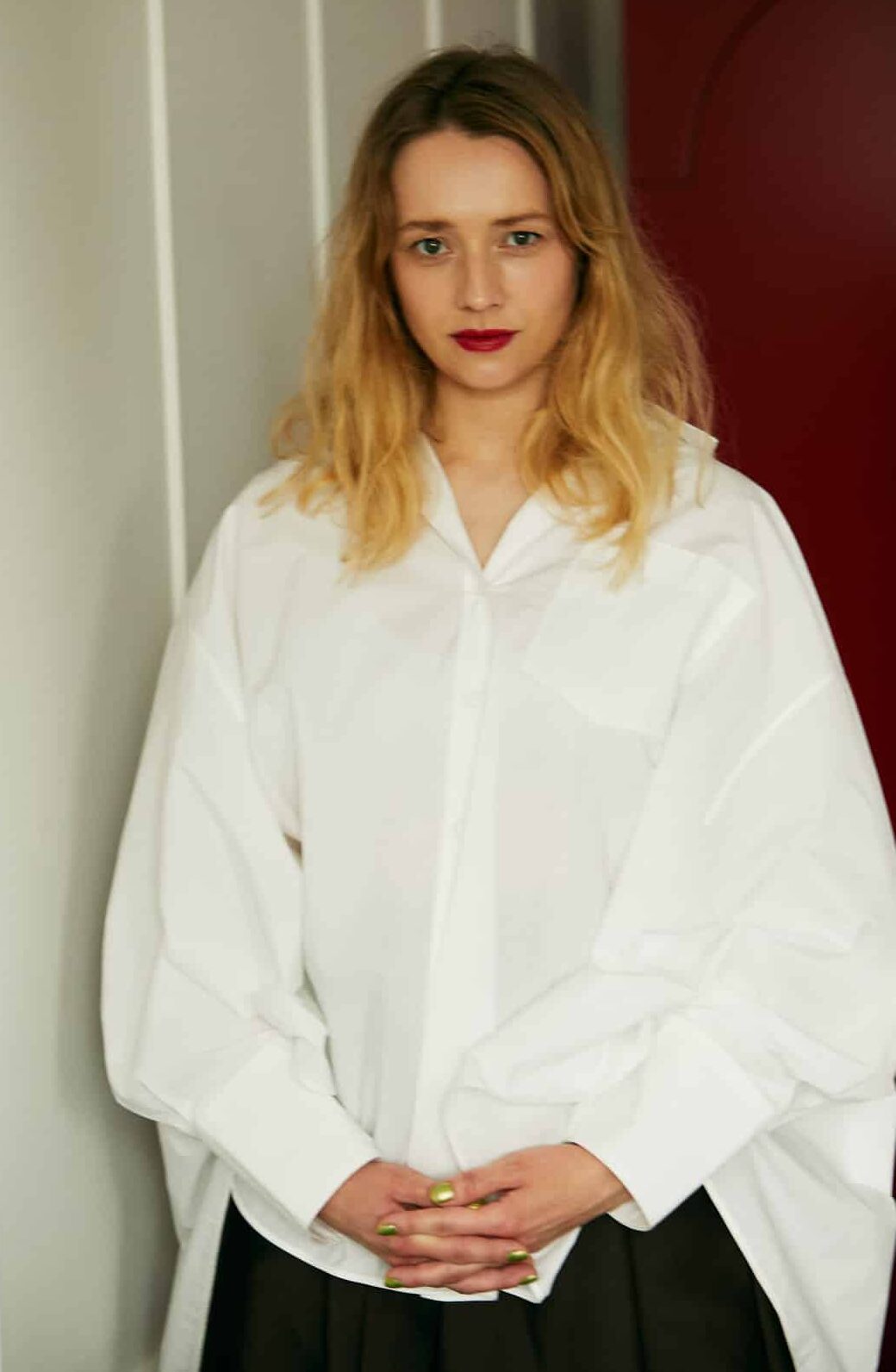 Lead actor Kristine has just been named an EFP Shooting Star 2023 and has just won Best Actress at the 2023 Dublin International Film Festival for Sick of Myself. 
How did you get started in acting? Did you go to drama school?
No, but I've been acting since I was, I don't know,  maybe 12 or 13 in children's theatre. I then went to this acting, high school, college thing we have in Norway, where you can train to be an actor but still get the required "normal" subjects. So I did  theatre history and techniques and movement, dance and whatever. Then I thought I was gonna quit acting. So I started working behind the camera, doing design. I went to art school doing visual art, installation and stuff like that. And then I also went to this one year film school where I directed and made a lot of animation films and wrote a lot. 
But then missed that thing, so I started doing short films with my friends. In fact, it just kept on like, yeah, I kept getting more and more jobs, and I was also more and more eager to get jobs. A lot of web series like miniseries and then I got my first feature film which was Ninja Baby. and it was very very successful.   It won Best Comedy at the European Film Awards.
Your big break? 
Yeah, I would say so.
What is your next project?
Well, actually I do have  another film that also just came out one month ago.  A Danish film called The Great Silence, which I did once we wrapped 'Sick of Myself,' where I play a nun!
And I have another film coming up to be released this year with Mads Mikkelsen. Called 'The Bastard.' It's directed by Nicolaj Arcel, who made 'A Royal Affair' with Alicia Vikander and again, Mads Mikkelsen. 
Do you have a favorite designer?
I'm not so into fashion like that –  I'm more into finding stuff and making my own stuff!
Do you have a makeup routine?
I don't have a 'routine' as such .  Some days I want to put makeup on and some other days I don't.  And some days I'm gonna go totally extravaganza and other days I don't give a shit. So I'm like, it's very all or nothing I feel.  I mean, I can go for weeks just wearing really baggy, misfitting clothes. And then I have like, a month where I only want to wear skirts and a lot of colour. I tend to sort of use clothes as a costume in my everyday life. Like if I have to do something really, really boring, like doing taxes or something like that. Then I dress up as somebody who works in that way.  I put on a sort of a good suit and stuff like that, just for myself, just to feel more prepared .
What is your favorite city?
I would say Copenhagen is the place. Absolutely. I mean, I think Copenhagen has everything.  It has a lot of culture. There's a lot of diversity . It's just the perfect size. And you can bike everywhere.
Who is your favourite director?
I guess you could say that the director I most want to work with is Yorgos Lanthimos (who directed the Lobster and The Favourite.) He has a very interesting way of working with actors.
I think my favourite film of his is Dogtooth, which was one of the first if not the first one he made.
He has a very interesting way of working with actors that I'm very keen on trying. Where he  works a lot with animals. So actors have to sort of become an animal.
Who is your favourite writer ?
My favourite at the moment would be Matias Faldbakken, who is also an artist .
His last novel is 'We Are Five.'  It was very, very funny but morbid at the same time, which I think is a great combination  (laughs.)
.
Do you use social media?
Sometimes I feel yes, I do. And sometimes I think that if I were, if I was not working as an actor, I wouldn't have social media. But I feel like I have to have it. Maybe in like a dream world I wouldn't have it as an actor. I guess I would be as addicted to it as I am now. 
I mean if you want to go to the US as an actor I think it is important –  I know that studios are looking at how many followers you have …
Would they? Okay.
Some do, sure. Not everyone!  Because I don't have that many followers!
What actors do you admire? 
I would honestly say Olivia Coleman is on top of my list. Yeah, I really, really like her. I love watching her and Vicky Krieps – she was in Phantom Thread. And also Joaquin Phoenix is a favorite I would say.
Oh! And I am looking forward to watching Ari Aster's new film!
Do you see yourself working in Hollywood? 
It's never been like a dream. I've never had that Hollywood dream. I just, I mean, I would love to work in the US if it was with a director I like. And if it was a character that was fun and it had a good script. I wouldn't do it just anything. I don't know. Yeah, I think my goal with the acting  thing is just to do stuff I would have seen in the cinema myself. If not, then I don't want to do it.
What is the most difficult thing you've had to do in your acting career? 
Working out who Signe was in Sick of Myself and how to portray her was really hard. And a lot of time, it was really difficult to understand how her mind worked and how he was so because she's like, she does all this crazy stuff. And to believe how it's even possible to do that was one thing. But then again, I think the hardest part was to figure out the balance between her different sides because he's acting; she's playing a part, in fact she's playing several parts in her own life as well. So she's constantly manipulating, she's constantly lying and constantly playing these different parts . And to keep track of all  that, as an actor, was really difficult. I think it did strike that balance of humour and drama.
Sick of Myself  by Kristoffer Borgli is in UK and Irish cinemas now: https://www.modernfilms.com/sickofmyself
Makeup by Eli Wakamatsu at Stella Creative Artists using RMS Beauty.