After its Netflix release on 17th September, Hwang Dong-hyuk's gory psychological thriller Squid Game has become the most watched show ever on the platform, receiving an amass of critical acclaim and catapulting its actors into global stardom. Set in the hazily-lit streets of Seoul, the South Korean capital, an underground organisation stalks and manipulates helpless individuals with large debts and seemingly no hope of ever repaying them. Possible contestants are invited to an undisclosed location, to compete in popular children's games for a large cash prize – ₩45.6 billion (£28 million), no less. Think Battle Royale with neon-pink cladded soldiers. The series is a devastating exploration of the failures of uber-capitalism and exposes the brutal, violent possibilities of humans fighting to survive – both figuratively and literally. 
No actor has hit the headlines more so than HoYeon Jung, who plays the show's intriguing, aloof and striking female lead – Kang Sae-Byeok, number 067. Jung is no stranger to stardom, however, and boasts a coveted modelling career after appearing on Korea's Next Top Model in 2013. Since Squid Game's release, the model's Instagram following has ballooned from 400k to 16.1 million, becoming the most followed Korean actress on the digital platform. Not bad for her first ever acting role.
Jung's first major catwalk appearance was for Opening Ceremony Spring Summer 2017, in which she showcased her newly-cherry red hair – soon becoming her signature look. Since then, Jung has walked for a multitude of industry powerhouses, such as Marc Jacobs, Alberta Ferretti, Fendi, Moschino and Louis Vuitton, before being named one of W's top ten breakout models of 2016.  After making her Louis Vuitton debut in Paris for their Spring 2017 Ready-to-Wear collection, the model-turned-actress continued to be a favourite of the maison, and landed her first major fashion campaign for the brand's Pre-Fall 2017 campaign.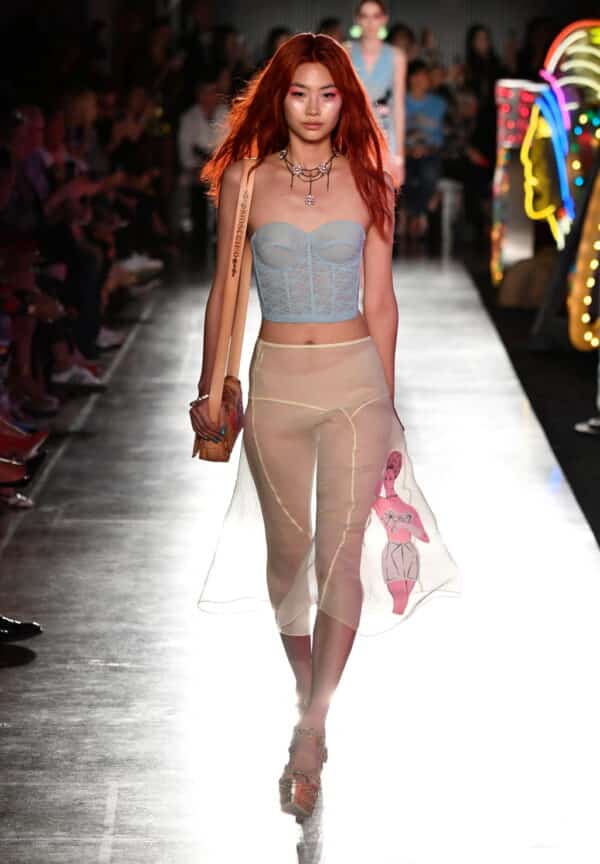 It came as no surprise, then, when the French fashion house announced their new partnership with HoYeon Jung on Wednesday. Posting a striking image of the actress sitting cross-legged in a full monochrome LVSS/22 ensemble, the caption declared she had joined as the Global House Ambassador for Fashion, Watches and Jewelry. Talking of the new partnership, the brand's creative director Nicholas Ghesquière beamed "I immediately fell in love with HoYeon's great talent and fantastic personality, and I am looking forward to starting this new chapter of the journey we started at Louis Vuitton a few years ago." 
In a statement released by the actress, she stated  "I'm honored to kick-start my acting career with Louis Vuitton, which I've worked with throughout my modeling career. I'm looking forward to the partnership as a global ambassador for the brand." 
Surprisingly, Jung has credited her slick Instagram appearance as the driving force behind her taking acting classes. She told W Korea "Instagram is a space where I edit and show what I want to show. But at some point, I thought, 'Am I really this person?' People like my shiny look, but to me, I'm a much different person … I had a strong desire to express what I felt through acting. So, […] I came to Korea and took acting classes." Astonishingly, Squid Game turned out to be her first ever script, audition, and role. Her beautiful portrayal of Sae-Byeok emmenates such a desire for authenticity, and we very much doubt this will be the last we see of her on our screens.