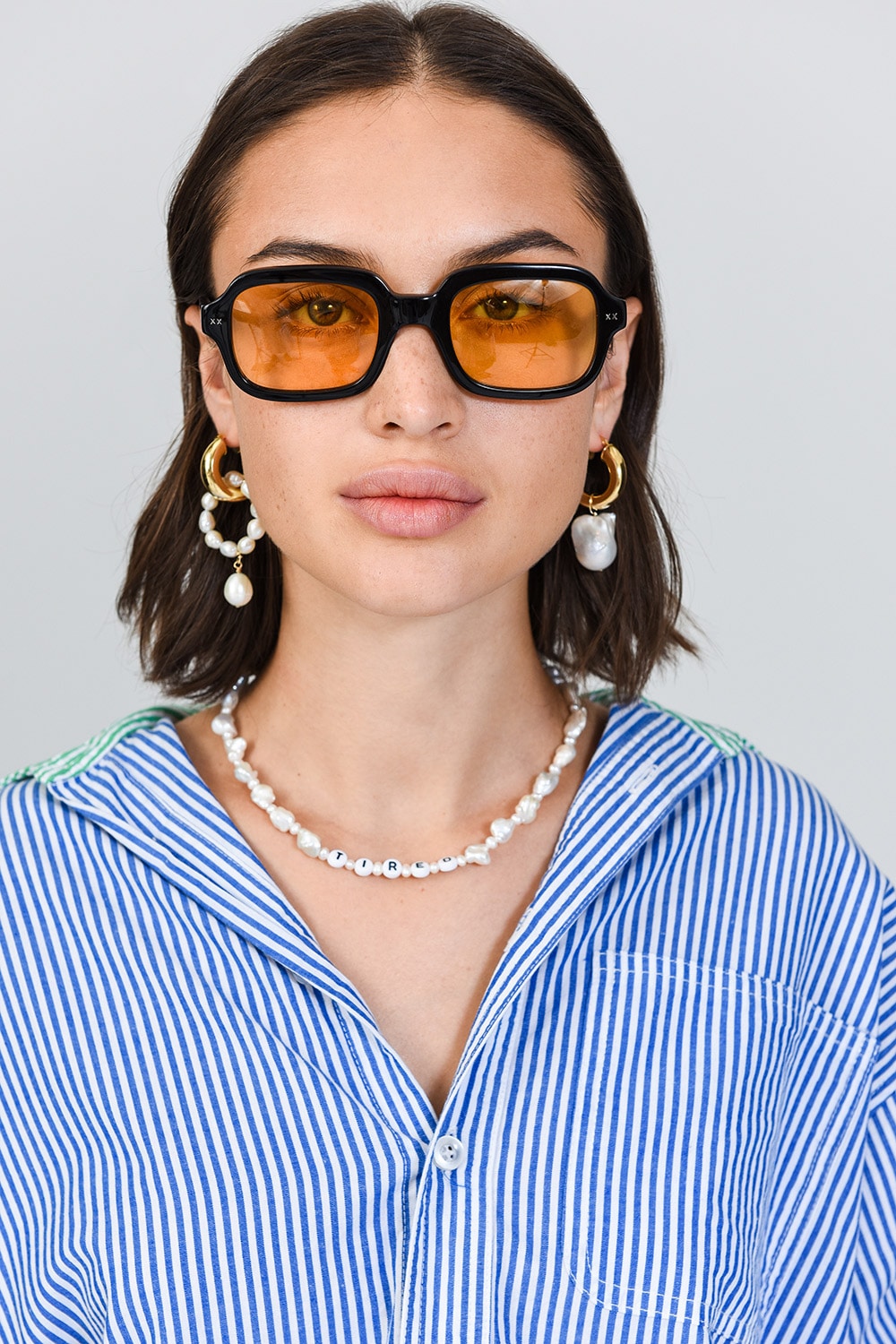 On the sandy shores of Miami in 2018, designers, friends and passionate travellers Duda Teixeira and Cristina Mantilla created a small jewellery collection composed of shells and delicate gold fastenings; a small, personal project outside the working realms of their creative agency. They were the creative directors, the designers and the creators of each éliou piece, shooting their own imagery and releasing the images on their newly-created Instagram. The collection garnered more attention than they had expected and soon they were asked whether they would be partaking in Paris Fashion Week, affirming to the duo they could create full-time careers in their much-loved side hustle. 
 Fast-forward almost three years, and éliou has transformed – their popularity flourishing in response to the three customised éliou pieces commissioned for Harry Styles's Golden video; due to their beautifully curated, sunshine-capsule Instagram posts, and regular snaps of high-profile customers layering éliou's many designs. A-List customers include models Kendall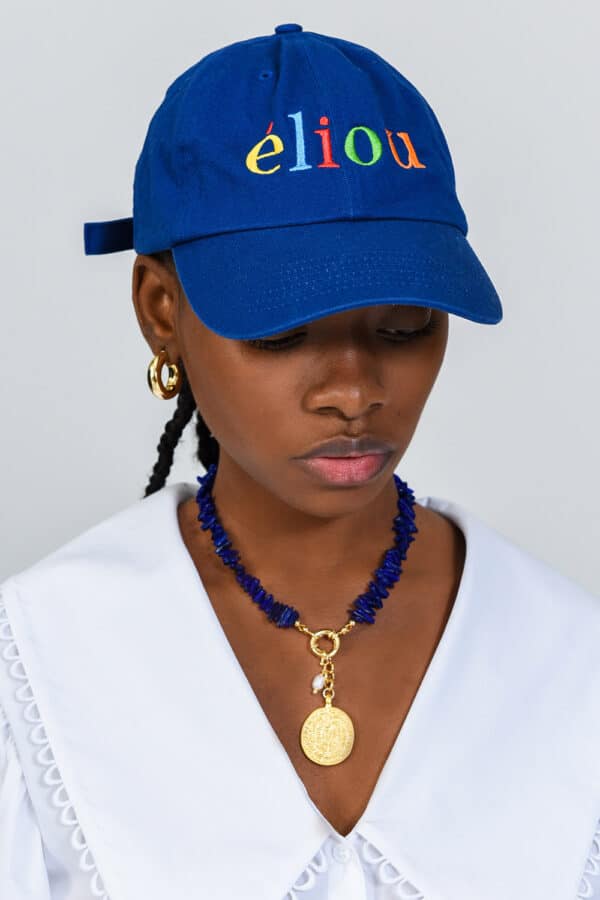 Jenner and Gigi Hadid; actress Dakota Fanning; Victoria's Secret models Elsa Hosk and Candice Swanepole; Man Repeller's Leandra Cohen, The Crown star Emma Corrin and, of course, One Direction member-turned-solo-superstar Harry Styles. More on Styles later. 
Each éliou creation is a fluid blend of classic and contemporary design, fusing the traditional with the modern, showcased by the asymmetric shapes of the 'Franca' necklace. The 'Franca' is a beautiful freshwater baroque-pearl necklace, evenly split between clusters of tiny pearls on one side, and larger misshapen ones on the other.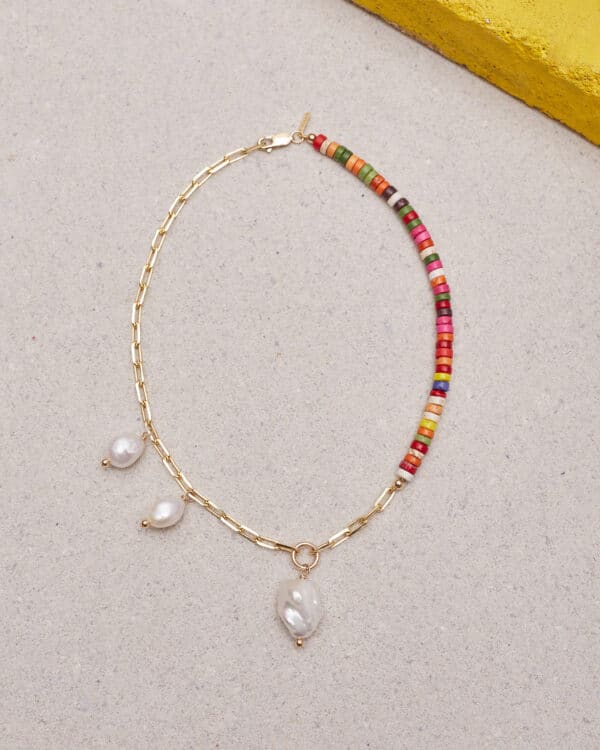 The 'Colette' Earrings, another Lula favourite, are composed of delicate, gold-plated shells and clusters of freshwater pearls cascading from their centre – forming the perfect pearl fountain. For the Lula feam, éliou's designs conjure distant memories of the ocean and sandy beaches; exciting us for holidays to hopefully come this summer. The pieces perfectly emanate the brand's sunshine-bathed coastal roots, too: éliou's gold is sourced from Brazil – Teixera's home country – and pearls and shells are sourced as locally as possible.
Éliou's continual experimentation with glistening pearls demonstrates the luxury of the brand and their pieces. Net-a-Porter approached éliou before their own website was created, and thus éliou's officially branded status was affirmed. Despite this, prices range in accordance with each piece and specific materials, making their items affordable to many. The brand's appeal does not (of course) end there: each piece possesses its own individualities – much as pearls and shells are individual in form – and items are made to order, emphasising the brand's commitment to sustainability. No units go unsold, no materials are wasted – in fact, éliou's latest collaboration with Memor – an artist and ceramicist based in Ohio, features a range of clay pots, vases and dishes adorned with an assortment of éliou's deadstock materials. Almost all items from the collection have now sold out, with the splattering of brightly coloured jewels, shells, beads and broken plates mirroring the vivid materials used throughout éliou's anklets, bracelets, earrings, barrettes, wearables and 'leashes'. 
It is now difficult to talk of éliou without mentioning Harry Styles. The global superstar and fashion-icon's own style and accessories choice has come on leaps and bounds since he was regularly snapped in his 'airplane necklace', much thanks to his superstar stylist Harry Lambert. For his Golden music video, which has amassed over 101M views since October 2020, Styles was seen running along a Meditteranean coastline, wearing an array of pieces including an oversized, loose shirt and swirling trousers from Liverpool-born designer Steven Stokey-Daley; a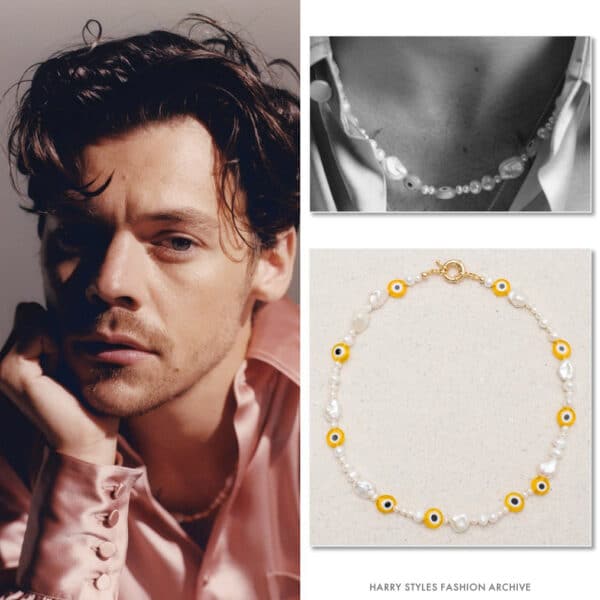 turquoise, fitted Gucci blazer and a yellow fisherman's hat. Lambert also commissioned three bespoke necklaces from éliou, after Styles was initially photographed in one of their necklaces at an Italian airport. 
The chosen Golden necklaces were an azure-blue beaded piece, which has since been named the 'Harry', the turquoise and saffron 'Senna' and, most memorably, the beautiful 'All The Feels' necklace, customised with beads spelling out 'G-O-L-D-E-N'. Fans of both éliou and Styles are able to purchase said necklace with any customisations they wish. 
Harry Styles' love affair with éliou's necklaces did not end there – for the 2020 December issue of American VOGUE, in which the-then 26 year old singer became the first solo, male cover-star, Styles was photographed by Tyler Mitchell in an array of bespoke, designer pieces. For the cover, the star wore a billowing, powder-blue, AW20 Gucci ball gown paired with a tailored Gucci blazer; stylist Camilla Nickerson blurring and obscuring the boundaries of gendered fashion 'norms' – a style that is emphatically associated with Styles. To no surprise, the star wore two of his éliou pieces in many of the shots: his namesake 'Harry' and the 'Thaia', 
which was paired with Harry's topless chest and a mid-length, tartan Chopova Lowena AW20 skirt. Soon after the VOGUE shoot, Harry was named Variety's '2020 Hit Maker of the Year' and was shot wearing a delicate, salmon pink Gucci shirt, a pearled éliou necklace poking through the unbuttoned collar.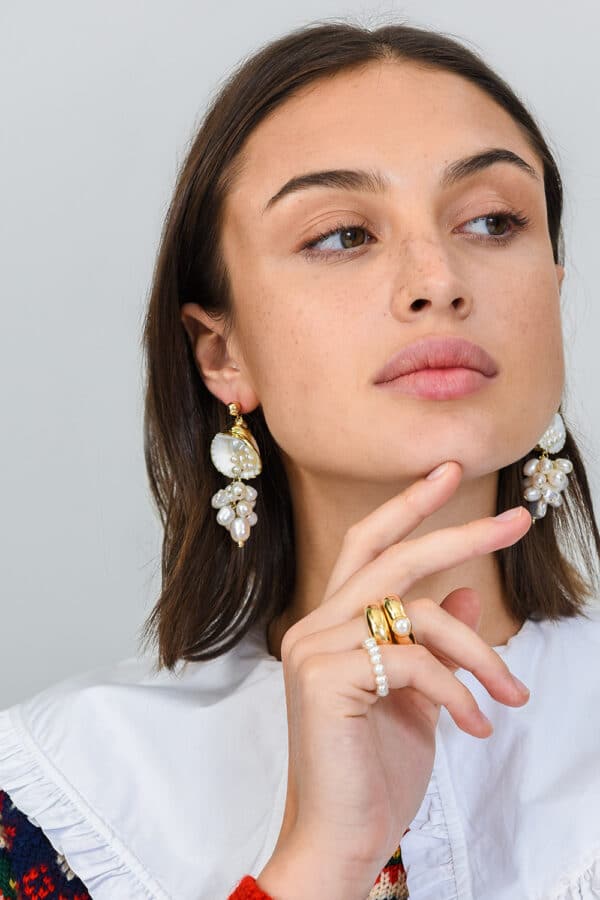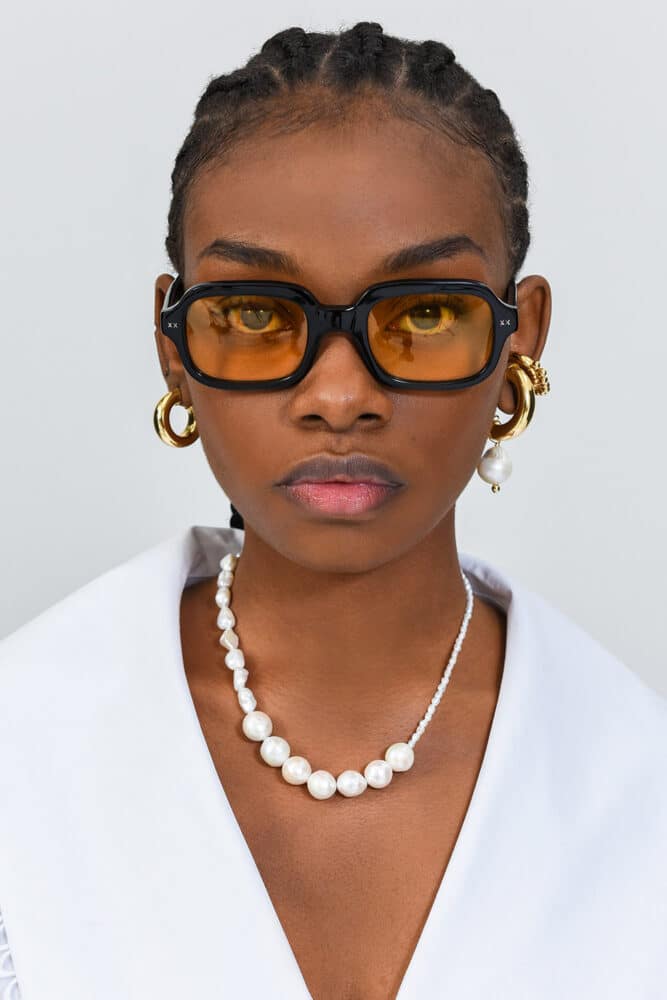 It is clear to see Harry Styles has acquired a never-ending love affair with the brand, and so have we. As more and more A-Listers are snapped on Instagram wearing their pieces, éliou's fanbase will continue to grow and the brand flourish. Social media is, of course, a powerful marketing tool, yet it is éliou's commitment to their small, fully-female team, to sustainability, individuality and making statements through accessories which really gives us All The Feels.