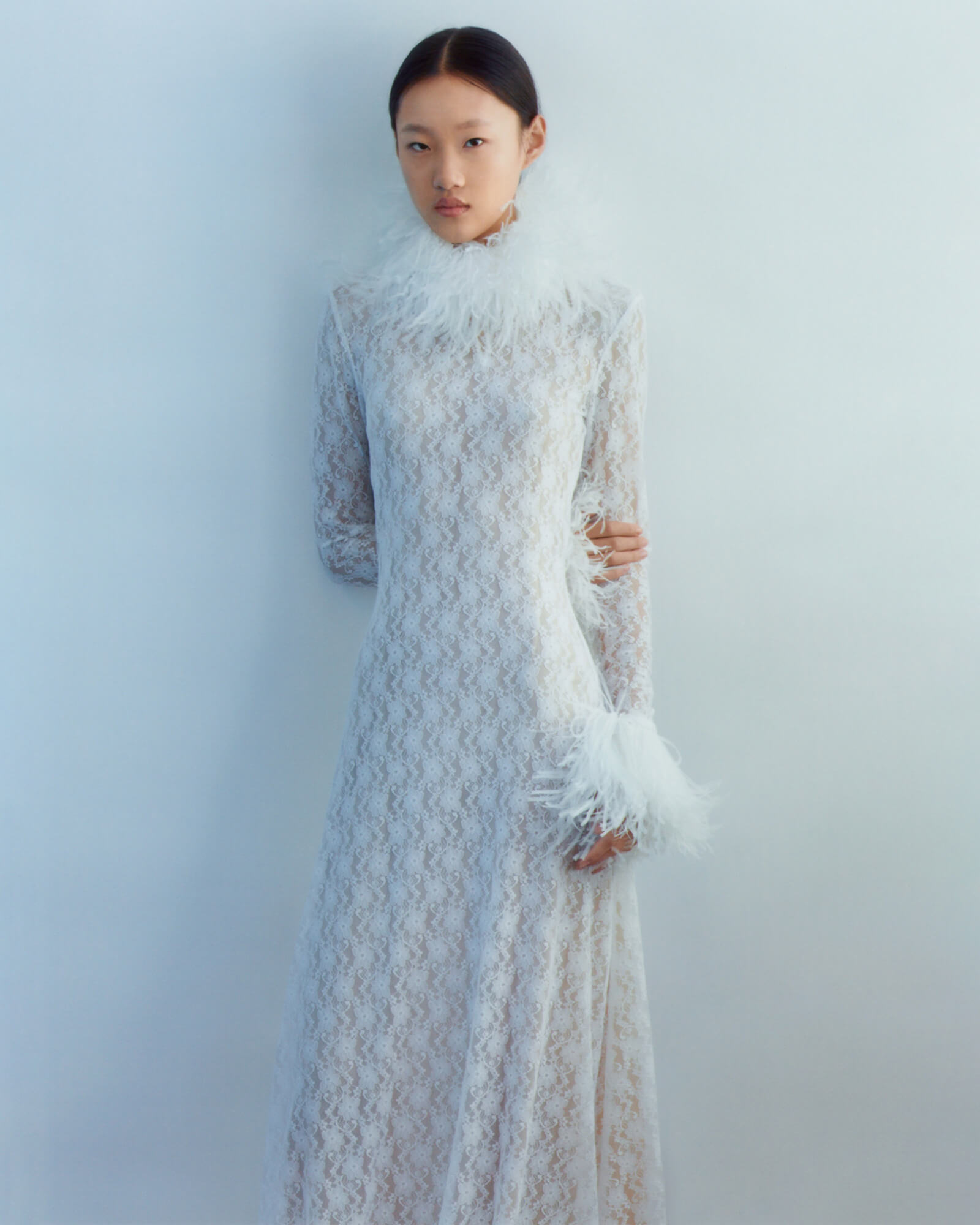 Tammy Kane epitomises the new bridal collection: "A Christopher Kane bride is someone who has the strength of character to do whatever they like on their wedding day. They don't feel the pressure to conform to the traditional sartorial rules." As a result, we confront silhouettes that are at once sophisticated and casual, which can transition from rehearsal dinner to drinks reception; church to registry office.
As is typical of Christopher Kane, the bridal collection contrasts traditional with more surprising elements; lace and satin are paired with crystals, feathers and chainful. The capsule features gowns as well as hoodies, shirts, mini dresses and tuxedos. Kane used his archives 'as the lead inspiration' of his ready-to-wear collection for the custom gowns, applying 'the same logic' for both. As such, these designs bring the brand's DNA into a new sphere.
The mini-dress which has a feather hem, suspended from crystals, is wonderfully decadent and brings a 1960s spirit into the modern day. The hem is removable so works well for the  dance party after the wedding, which is arguably the main event.
Kane reimagined his Cupcake silhouette in this lustrous satin dress. It has antique elements in the V-shaped waist and corset with internal boning, undercut by the modern, chunky crystals and its mini-skirt.
This translucent lace gown is sure to cause a stir at any wedding. The dress sits somewhere in between lingerie and formal-wear and its ample feather collar and cuffs add a touch of 1930s glamour.
The veil is sheer tulle with ostrich feathers and heavy satin trims. Every aspect of the accessory is well-thought out and beautiful, with a silver-tone metal comb, which pairs perfectly with their crystal-embellished wedding dresses.
To book in a complimentary consultant, the bride-to-be can email the Mount Street Bridal specialists at: bridal@christopherkane.com. You are able to bring one guest and always have the option of a video call with other members of the bridal party – a staple of 2020 life ensuring no one misses out. An Atelier seamstress will be available if any basic alterations are needed, alongside the option of bespoke tailoring across selected silhouettes.