Meghan Lavery and Daniel King founded Home Union together with a shared love of unique, vintage interiors. Their stunning retro sofas, lamps, tables among all their other pieces have gathered over 150,000 followers on Instagram. The industrious duo are working harder and longer days now since the start of the pandemic than they ever had before. Home Union's particular Sixties-style aesthetic was developed when Meghan and Daniel moved in together: 'each of us had our own aesthetic, style, and way we liked things arranged. The blending of each of our aesthetics became our aesthetic.'
Meghan and Daniel are 'very visual people' and tend 'to only work within fields that used that quality in us.' Their background comes from years of fashion and set design and working for furniture designers around New York. Meghan founded her own fashion line Shapeshiftr, was a vintage clothing buyer and did freelance set design for editorial shoots. Meanwhile Daniel studied English Literature and went onto set carpentry and set design work.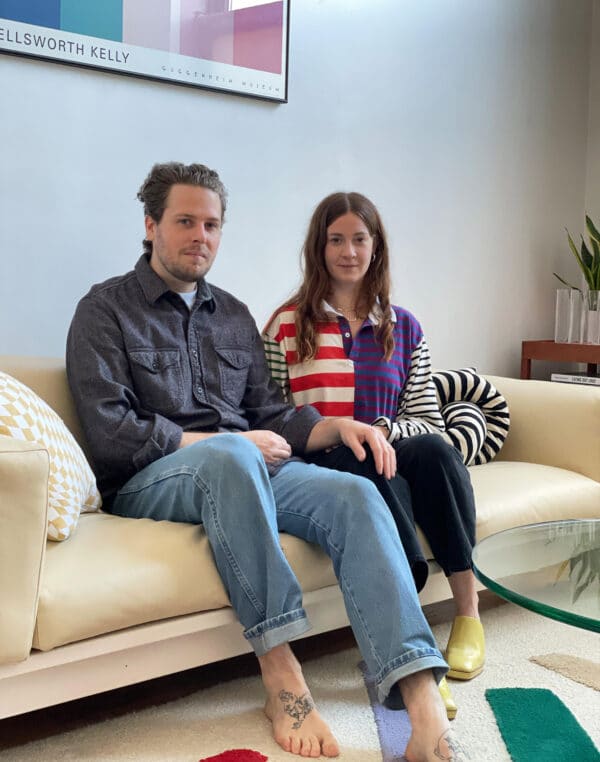 Their favourite period for furniture is the Sixties and in their shop they largely stick to items designed from 1960 to 1980. As they say, it was a fun and experimental period for interiors, especially for lighting 'with designers like Paul Mayen making futuristic lighting for the home'.  They love the work of Afra & Tobia Scarpa and Lella & Massimo Vignelli 'whose designs from the Sixties still feel incredibly fresh today'. 
Although their leads on where they get their furniture are necessarily secret, they leave 'no stone unturned.' Their advice for others who want to get into buying and collecting vintage interiors is 'knowing the differences between materials, what was used when, to distinguish something well-built from a clunker all aided in that department'. They credit experience and trial and error.
In 2021, the trends they anticipate are 'a blending of textures and shapes throughout the home.' They foresee a slightly more minimal approach in decorating; 'a lighter touch'. For your interior inspiration for the new year, look no further.
You can shop Home Union's unique pieces via homeunionnyc.com or in their shop: 319 Graham Avenue, Brooklyn, New York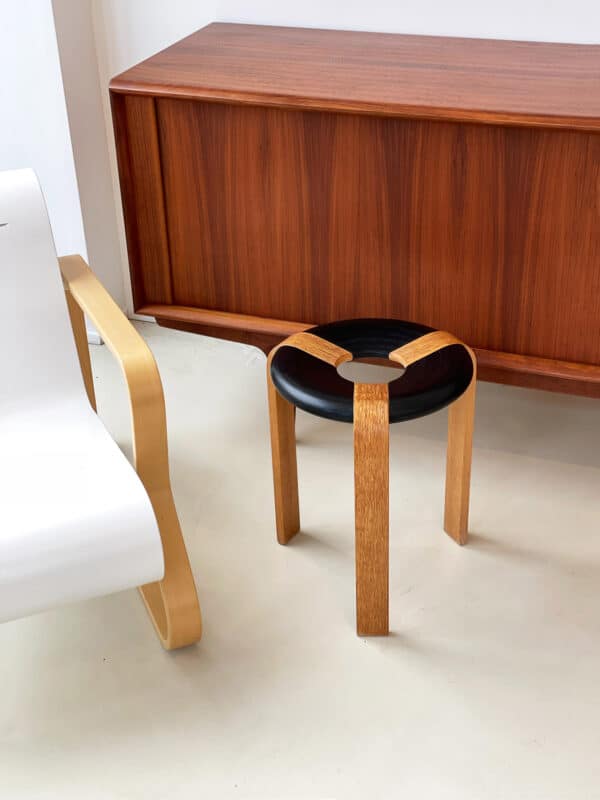 Rud Thygesen & Johnny Sørensen Donut stool for Magnus Olesen. 1970s, Denmark.
We had been hunting for a rare donut stool for years, but somehow they always evaded us. I would track one down, but was always too slow. Recently, however, we got lucky- twice. We locked one down that we knew wouldn't be leaving our house (perks of the job), and then a few weeks later found another for the store.
Tobia Scarpa 3-Seater Bastino Yellow Vinyl Sofa for Gavina, Italy 1970s. 
This Bastiano sofa was the very first we found. A white lacquered frame with original yellow vinyl upholstery. This sofa belonged to the VP of the famous Lightolier lighting company and remained in his house since the early 70's. How cool? Even cooler, it now belongs to friends who live just a stone throw from our store.
1960s Orange Kartell KD28 Table Lamp by Joe Colombo, Italy "New Old stock with original box". 
The KD28 lamp is another rare bird that we are always on the hunt for. It doesn't seem like there are too many out there, especially still in the original box, never before turned on. This pleased us, and it was hard to say goodbye to.
Mario Bellini "Colonnato" Solid Persian Travertine Dining Table for Cassina Italy 1970s. 
The most beautiful, and heaviest thing ever. It took us hours to load this treasure. We had to have the pieces rolled out of the house. I previously had crushed a finger under a piece of marble a few months prior and was scared to even touch this piece, but it was worth the physical toll it took to be able to enjoy it for a little while in our store.
1970s Striped Edward Axel Roffman Tubular Chrome Chair. 
Super rare and fabulous shape. I was so excited about its profile I wanted to do something fun, and thought stripes could really show off its curves better than a solid color would. We were right, they sold immediately.
1970s Paul Mayen Brass Touch Floor Lamp
 I had my sister drive 6 hours to get this lamp for me and then take it apart and pack in her luggagelater to fly it to me when she came for a visit. I talked her into it by letting her wear all of my clothes for the week in lieu of being able to pack her own clothing.
"Farstar" Dimming Table Lamp / Sconce by Adalberto Dal Lago for Bieffeplast
We found a pair recently at a friend's store. These are super rare, so finding a pair of them is even more special. We are actually hoping they don't sell, so we can keep them and use as wall sconces in our home.
1964 Saratoga Seating by Lella and Massimo Vignelli for Poltronova, Italy
We got a whole set from a friend abroad, in pristine vintage condition. This colorway was the first released and we are able to sell it for a fraction of its MSRP.
Vintage Alvar Aalto Screen 100 for Artek. 
Our first Aalto screen came from a collector who had purchased it used in the 1980's, and kept it in her collection until then. It's difficult to date it, but it was absolutely an old production. These screens are now copied, but will never be done as well as the original Aalto design.