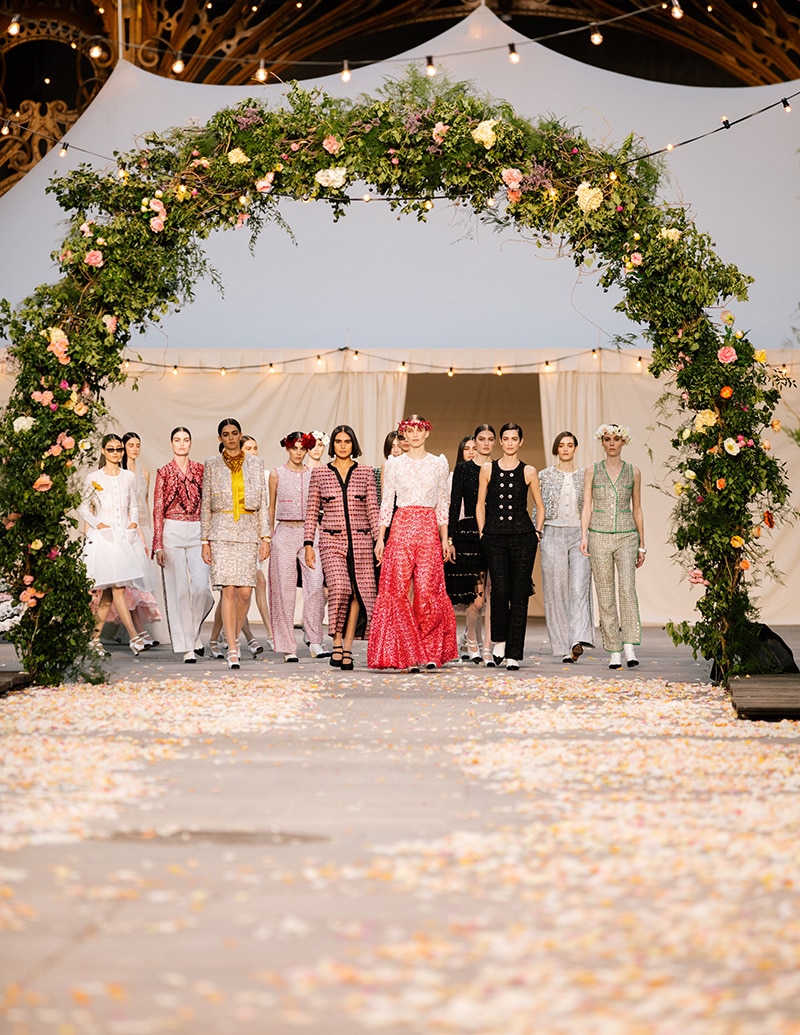 This year Chanel could not put on another of their signature extravagant fashion shows and the result was a more intimate launch of their Spring-Summer Couture collection. Virginie Viard said that she wanted the effect of a "family celebration, a wedding": "I knew we couldn't organise a big show, that we would have to invent something else, so I came up with the idea of a small cortege that would come down the stairs of the Grand Palais and pass beneath arches of flowers." The show is certainly a family affair; the audience consisted of Chanel muses Lily-Rose Depp, Vanessa Paradis, Penelope Cruz, and Marion Cotillard, among others. Moreover, Anton Corbijn, the photographer, filmmaker and graphic designer, photographed the collection in the style of a family portrait. The show also drew on the history of the brand: the Haute Couture Salons at 31 Rue Cambon were redecorated by Jacques Grange, inspired by Gabrielle Chanel's own salons, with her Coromandel screens and "wheat sheaves" tables by Goossens.
The setting of the show drew on romanticism of the clothes. Some of the models wore flower crowns, while the floor was strewn with petals. There was a seat for every model, which they sat on after walking. As a result, all watched on for the final look, an ecru satin crepe wedding dress embroidered with pearl and strass butterflies. While the dress looked antique, – like it could have been your grandmother's from a photo album – the long train suspended from the model's ponytail gave it a modern touch. As Viard says, "I'm always thinking about what women would like to have in their wardrobe today."
There was a sense of fun and celebration to the whole collection. The silhouettes were exaggerated, with full skirts, sleeves and tiers of crêpe georgette. Some models wore waistcoats and trousers, facilitating easy movement, presumably for dancing at the party. The shoes of the collection were two-tone Mary-Jane shoes with a double strap in the style of the shoes worn by tango dancers and booties with wedge heels decorated with a fine golden quilt-like grid. One of Lula's favourite looks was a dress with a cape made of up white daisies with a long removable skirt, freeing the legs. Chanel's show is an example of creativity flourishing due to the restricted circumstances we find ourselves in.