Fruity Booty has launched their first collaboration with iconic model Kiko Mizuhara; a match made in heaven that began with an Instagram message. Kiko is a self-confessed lingerie lover, who fell for Fruity Booty after discovering them on social media. She bought an orange set and they contacted her immediately afterwards.
Kiko rightly guessed that Fruity Booty's signature 'edgy and cute' style would match her own. Her preppy and alternative outfits were a firm highlight of 'Queer Eye: We're in Japan!' and have won her an impressive six million fans on Instagram. Her creativity and love for fashion spawned her eponymous brand Office Kiko.
Working with one of the best Orizome designers Mr. Yamomoto, Kiko used the age-old Japanese papercraft that combines origami and pigment dip-dyeing to come up with patterns for the lingerie and nightwear. Kiko, who has always been 'attracted to the beauty of orizome' is thrilled that more people can experience the 'joy of [it]'. The prints are mesmerising in romantic pastel shades. Photographer Monika Mogi captures the magic of the lingerie and nightwear, setting it in an alluring underwater world.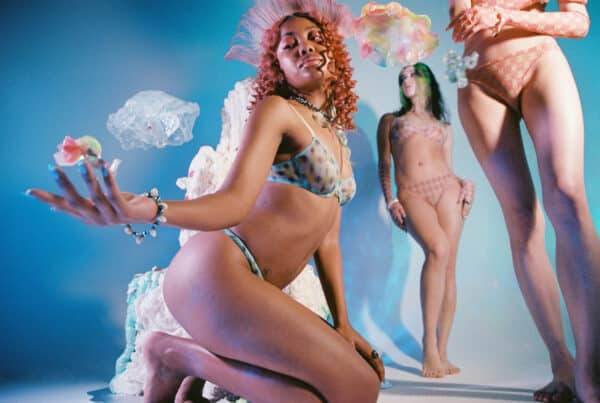 This glamorous collection marks a big change from the model-turned-designer's first experience buying a bra which she thinks was a 'simple' and 'white' from 'the local supermarket near my house'. Underwear is an important and fun part of all of our lives and Fruity Booty's sustainable range offers a guilt-free way of indulging ourselves and enjoying our bodies. Kiko hopes that the young women who shop the collection can 'feel the softtouch of the material and feel happy, beautiful and excited wearing this underwear.'