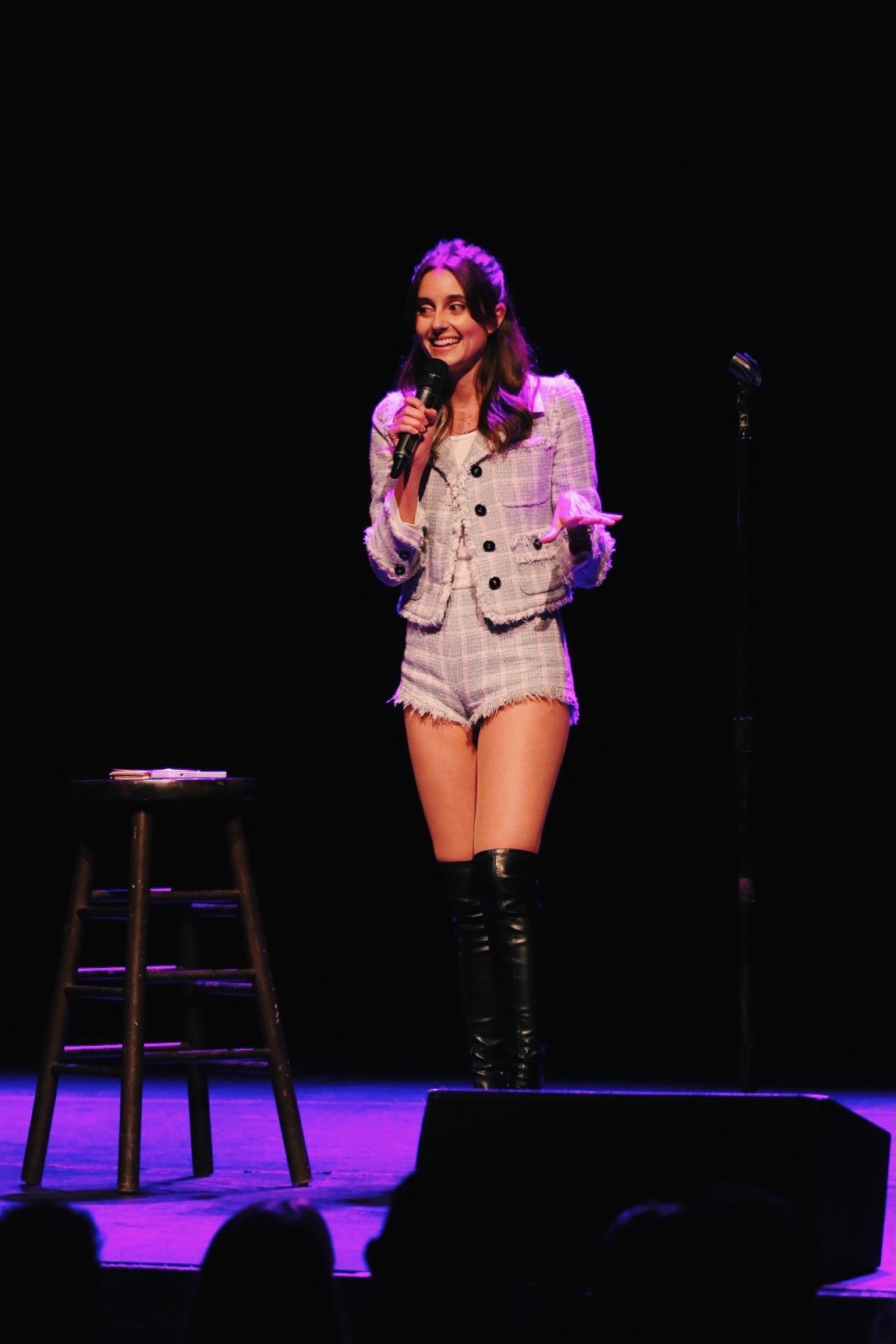 You will probably know Mary Beth Barone from her self-deprecating and sharply witty stand-up, or podcast Obsessed that she co-hosts with Benito Skinner, or perhaps even her iconic Kravis couples costume – Mary Beth, of course, dressed as Travis Barker.
Sitting down over Zoom with her while she stays at her parent's house, she is eloquent, kind and ultimately very wise. Drawing on her own experience, she offers sage advice to women addicted to the seeming unextractable cycles of toxic men, as well as to creatives starting out their careers. My favourite quality about her in person and in her stand-up is that Mary Beth is honest and open to being vulnerable.
She is certainly busy right now. From 18th – 20th November, she performed her show Drag His Ass at the Soho Theatre in London to sold out audiences. Alongside this project, she will be opening for Chelsea Handler in the beginning of December and while she's not able to share more – rest assured that she has a number of projects in development. Also on her schedule is getting a new apartment in New York, a decision validated by her tarot card reader. Needless to say, we were very flattered that she was able to talk to us about her life and work.
ES: I wanted to start by asking how you are?
MB: I'm good. I'm having a productive day which always puts me in a good mood and then I have back to back meetings before my show. A lot of my mood is dictated by work unfortunately. It's good for today though because things are going well.
ES: I'm glad to hear it. Congratulations on your show Drag His Ass in London.
MB: Thanks! I'm so excited and a little nervous. Obviously I have done stand up over there so I know it's largely similar. Because it's young people on the internet and they also live in a big city. It's not too intimidating to do a regular stand up there but with Drag His Ass I'm nervous because I've only done it in LA and New York. I'm hopeful! I have some British references in there.
ES: Do you think there's any difference between UK and US fuckboys?
MB: The thing i always say is that a fuckboy can look like anything so there's a big range of different archetypes. In London there are differences because you guys put so much emphasis on accents and where people grow up. I feel like there's so many categories of the lads you can come across. It's been really interesting to see and observe as an outsider how that culture operates.
ES: How did Drag His Ass start?
MB: Drag his ass came about in 2018 because I was self-admittedly addicted to fuckboys and I wanted to stop. I wanted to stop my behaviour but acknowledging compared to actually changing it can take time. I'd started taking into account how many days I went fuckboy free on a whiteboard in my apartment. I got a lot of people being very encouraging on social media. With that support I decided I was going to do a show centred around fuckboy culture. It was in 2019 when I did the first show and it grew and grew. Most of the audience was women and it was really supportive and fun even though we were talking about sometimes tragic stories. It felt good to come together andr remind each other that it was going to be ok.
ES: Would you say that your goal was to encourage women to move past the fuckboys or was it a case of rehabilitating the fuckboys themselves?
MB: I think both because enablers definitely have a role in this if we're letting people do these things. We don't want to victim blame but it is partly about owning your space when you deserve better and walking away from a situation. That can be hard to do. I try to educate and with the redemptions that's about trying to heal things from the other side of the aisle. It is meant to be fun so I try not to roast the guys and girls. It's supposed to be a productive conversation.
ES: Do you have any rituals for going on stage? Obviously when you do that you make yourself quite vulnerable. Personally I would be terrified.
MB: It comes in waves. Before the pandemic I was at peace with performing. I wouldn't get the pit in my stomach before going on stage. I got to a point where doing stand up felt like a normal part of my day. Drag His Ass would always involve a bit of anxiety because I just want the audience to have fun. That feeling has always been there; the nervousness that shows I just care a lot. Ritual wise, I am just nervous with my stomach in knots until the moment I get on stage and then for however long I'm up there it's nothing. I don't think about it and I live in the moment.
ES: Do you have any crazy stories about performing live?
MB: Last time I did my show Mary Beth and Friends at the Bellhouse, I got a DM while I was backstage saying: 'my friend went on a date with a guy who ghosted her and he's here at the show too on a date with another girl. Should we call him out?' I had had a few drinks, which i don't normally do but because i was hosting, I was letting loose a little bit. I went on stage as I was wrapping up and read the DM and said 'come on up here!' The girls came on stage and we brought the guy up. We did an impromptu redemption and it turns out the girl he was with was his sister. He had ghosted the attendee and we made amends which was nice. I had never had anything like that happen to me before.
ES: Yes, that's someone's real life going on stage which is crazy. You turn aspects of your life into comedy. Would you say that's a therapeutic process?
MB: Definitely. For a while it wasn't the healthiest. I would avoid processing things that had happened to me because I could turn them into jokes. I would really remove myself from it. But now I try to do both. I'm in therapy. Now of course a lot of it still ends up on stage but being able not to evade my feelings through comedy makes the comedy more truthful.
MB: That self-deprecating humour is quite a British thing. Is there any aspect of your life that you hold back from sharing?
ES: Honestly not really. I pretty much talk about anything. My set will always be very reflective of who I am at that time. I don't really talk about Covid, I guess. I have one joke about vaccines where I say I want bigger boobs.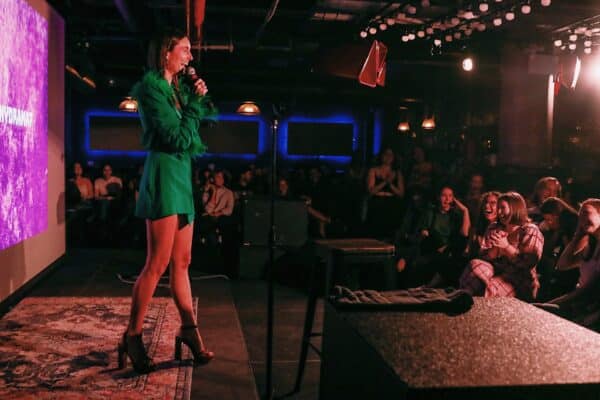 MB: Do you give the subjects of your jokes a heads up?
ES: Definitely. I tell my boyfriend before I perform jokes about him. It's nice for him to have the warning. Sometimes we'll bounce things off each other. With friends and family, I'll let them know that I wrote this joke after we hung out on the weekend for example.
ES: Whose work would you say you're influenced by?
MB: When I was first starting, Amy Schumer was exploding and watching her rise through her shows and her movie Train Wreck was so inspiring for me. I fell in love with her humour. For a while I didn't see myself reflected in many stand up comedians so it was great to have that reference. And then of course with Fleabag and Broad City, an era of defining shows came out. It's been great to see comedy get a lot more democratic and many more voices heard.
ES: What was your route into comedy?
MB: It was random. I needed a hobby so I signed up for improv classes in New York. I really enjoyed improv a lot and decided to buy a little notebook and start writing jokes. I went to an open mike one night and i said if i bomb i'll never do it again but it went well. It was a whirlwind: I quit my job, broke up with my boyfriend, and moved out of our apartment. Blew up my whole life pretty much.
ES: But no regrets?
MB: No regrets at all. I'm so happy – especially now – towards the end of the year there's always a feeling of 'maybe i haven't done enough' but there is also a calmness that we're starting a new chapter really soon. I think I'm able to find more peace in that than in previous years.
ES: I wanted to ask you about Obsessed, which you co-host with Benito Skinner. How did you two meet?
MB: We met at a comedy show in Bushwick. We both watched each other's sets and we met on the way out. I could tell that he had that star power. We met again at a show at a thrift shop in another part of Brooklyn and he said that he was making a video and that I should play Mary Magdalene. We were both just starting and when we did it, I was blown away by his audience and how smart he is and his talent. We became fast friends. He's one of my best friends now.
ES: That's so sweet. I absolutely loved your couples costume this Halloween as Kourtney Kardashian and Travis Barker.
MB: That was his idea. I told him that if we're going to put me in a bald cap, I would like it to look cute somehow. It worked out.
ES: The suit was so chic.
MB: I have that now in case I need to wear it in future.
ES: How intensive was the process of transforming into Travis Barker?
MB: It was four hours in prosthetics and getting the fake tattoos on. This amazing makeup artist called Aly (@allydoesmakeup) blew me away. She printed his actual tattoos on tattoo paper. The fear was that I would look like megamind but it was a pretty smooth bald cap.
ES: Finally, do you have any advice for young creatives on how to stay motivated and keep going?
MB: I would say don't try to rush anything. No matter how good you are at the beginning you're going to get so much better. You will benefit from the natural pace of how long things take. You have to bet on that and also do the work. It's frustrating when you feel like you are and nothing is happening but it's hard to see your own momentum from where you're sitting. I have late at night said to my old roommate that i wanted to quit a million times but you have to get through that.